The power of Larry Kramer's The Normal Heart lies not only in its incisive, witty and emotionally honest account of the birthing pains of New York City's first AIDS activists, but in its universal truths. For when Kramer's feisty (and largely autobiographical) protagonist Ned Weeks despairs, "We're all going to go crazy, living this epidemic every minute, while the rest of the world goes on out there, all around us, as if nothing is happening, going on with their own lives and not knowing what it's like, what we're going through," he captures the cri de coeur of every perceived "other." Whether ravaged by disease, famine, drought or genocide, these are the "normal" hearts that ask how can the world watch us die and not help? The gay men here are all of us, for, depending on who's judging, we are all the "other" to someone.
Still, as close as Kramer is to his subject (he notes in a post-performance letter the members of the original 1985 cast and those on whom the characters are based who have died of AIDS) he never loses a crystalline narrative vision. Despite the enormity of the emotions, fact and chronology remain in perfect balance with a compellingly nuanced portrait of Ned and his fellow activists as they try, against the odds, to navigate the early horrors of a disease as selective as it was deadly. And although there is a certain expository artifice – Ned, for example, likes to describe his psychology under the pretense of discussing past therapy – it serves with urgent purpose Kramer's potent snapshot of the culture, psychology and angst of his community.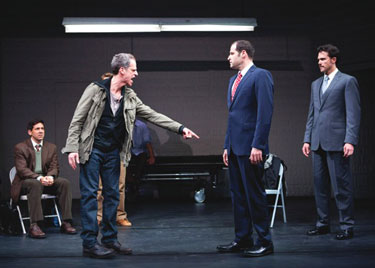 "The Normal Heart" at Arena Stage
(Photo by Scott Suchman)
And despite its importance as witness to the struggle, this play is no fossilized account. With an uncompromising ear for dialogue, devotion to emotional truth, ugly or otherwise, and a blissfully irreverent sense of humor, Kramer engages as much as he lays bare. Thus, though the speeches, diatribes and expositions may fly, Kramer earns the right to every last one with his equally uncompromising portrayal of the men caught in this terrible, confusing time. So if Ned may be self-righteous to the point of insufferable (his friends are the first to tell him), and if the names of the dead are projected upon the walls ominously and exponentially, it is Ned's plaintive begging of his dying lover Felix to "Please don't leave me," that equally pummels the heart.
In a pitch-perfect performance, Patrick Breen feels so consummately Ned that if it turned out he was also Kramer, one would hardly bat an eye. Capturing the driven, adversarial nature of this difficult man, but also his intelligence and neediness, Breen gives us the kind of character that lives, rants and loves in our minds long after the lights go down. It is a superb portrayal.
Memorable for his admirable restraint, John Procaccino as Ben Weeks, Ned's straight brother, gives beautifully drawn presence to a man who learned long ago to keep his doubts and turmoil concealed beneath his well-cut suits. Though Kramer rather neglects Ben's story and what it might reveal, Procaccino skillfully delivers the implied complexities of his character, especially when Ned finally calls him on the carpet.
As Bruce Niles, the leading activist whose diplomatic style argues with Ned's aggression, Nick Mennell cuts a dashing figure and engages convincingly with Ned when they inevitably clash. Still, though he voices the rationale of those who would tread softly and the pragmatics of those who stayed closeted, Kramer's omission of most of Bruce's backstory makes him harder to grasp, despite Mennell's undeniable charisma.