Walking around the upper deck of the Nationals stadium on Tuesday night with friends at Team DC's Night out at the Nationals, a few thoughts struck me. First among them, that LGBT people must really love baseball. We were everywhere, thousands of us teeming along the stadium decks; lining up for hotdogs, hamburgers and beer; and cheering from the stands during those (unfortunately too few) moments when the Washington Nationals seemed they might eke out a win against the Tampa Bay Rays.
Of course, it may not be as much that each individual LGBT person there was a big basebal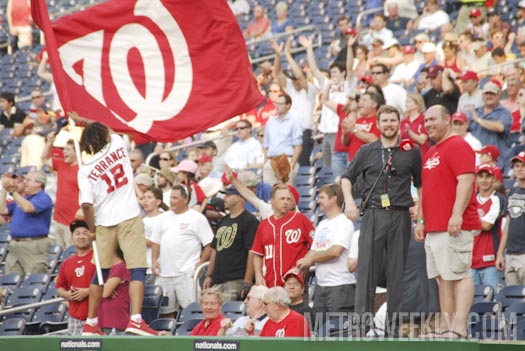 l fan — I'll admit I'm more of a tennis guy, myself — than the fact that as a community we like being able to gather openly and joyfully in those places we were once traditionally told had no room for us. And if there's any place in American popular culture that's lagging in terms of LGBT visibility, it's professional sports. It's quite wonderful that Major League Baseball teams and other professional sports teams and individual athletes have declared their support for LGBT people and issues — that doesn't negate the fact that virtually all LGBT pro athletes feel the need to remain closeted until safely retired.
So events like Night Out at the Nationals are a good way to keep signaling our support to those athletes considering if they can come out and still play. We can't complain about people not coming out if we're not working to make sure they have a supportive environment to come out into.
Of course, that's not the conscious goal of everyone who turned out for Night Out. It was the kind of evening that turned the upper deck into an impromptu gay bar, filled with lots of meeting and greeting and laughter, an evening as much about being social as about being sporting.
But while we often self-select ourselves into neighborhoods and bars and restaurants by our gender or our age or our ethnicity, the thing that struck me most about Night Out was how the people there reflected the diversity of our community that we're proud of but don't always see together. I ran into my tennis friends, business friends, political friends, even some of my friends from my club-hopping youth. I saw young people I've interviewed for their growing accomplishments, and community elders I've profiled for their well-known achievements. For one night, we self-selected for us all to be together.
As LGBT people, we have survived, grown and accomplished so much that to see us come together so casually in a way and place that would have once been radical makes me feel a little misty (I suppose it's no secret that I have that softer side). We may have a long, long way to go before we reach full equality for everyone included in "LGBT," but moments like Night Out where we come together as a shared community to be a visible and integral part of the broader "mainstream" community speaks volumes about how far we've come.
With Metro Weekly being Team DC's media partner for Night Out, I have to say it's an honor to be a part of such a success. And whether you come to cheer a game-winning home run or to enjoy a warm summer night with friends — or, one hopes, both — I hope to see everyone there again next year. Be sure to bring a friend because, as always, the more the merrier.
Come see our Nationals fans in Scene: 150 photos from Night Out with the Nationals.