One doesn't ask Kathy Griffin an opening question in an interview situation. She just starts.
And once off and running, Kathy Griffin doesn't stop. In fact, she barely takes a breath.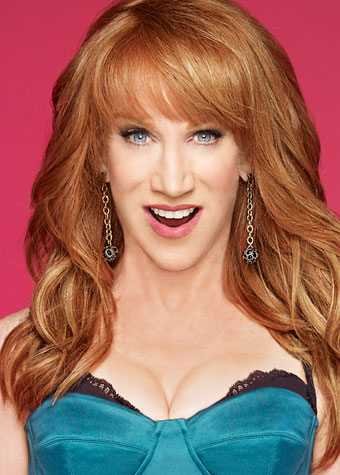 Kathy Griffin
(Photo by Mike Ruiz/Bravo)
The fiercely outspoken, fiercely intelligent, all-around-fierce comedian has, for years, been a champion of the gay cause. Long before Lady Gaga was popping up at rallies in support of LGBT rights, Griffin was embedded in the trenches, stumping for DADT repeal and marriage equality in an impassioned, fever-pitched way that would put most campaigning politicians to shame.
The thing with Griffin is that her actions have never felt like "celebrity lip service" – the star who simply gets behind an issue to build an audience and sell tickets to shows. Griffin's sentiments have the stamp of 100 percent authenticity. They are powerfully, potently put, and as heartfelt as they come.
Part of Griffin's empathy for the LGBT community is self-attributed to her status as a Hollywood outsider, a theme explicitly explored on her award-winning, groundbreaking Bravo reality show, My Life on the D-List. Of course, Griffin is no longer on the so-called "D-List." She's as A-List as they come – maybe even A+ – a notion solidified by her latest Bravo endeavor, the weekly talk show Kathy, in which she doesn't just lure celebrity guests to her lair, but everyday, ordinary people. It's a bold move and yet fully in keeping with Griffin's own disdain for "celebrity artifice." Her lack of pretension endears Griffin to her fans, and her willingness to go above and beyond is extraordinary. She's all-too-happy, for instance, to honor a request to take a moment and record a personalized greeting for an ardent fan, doing so in an engaging, creatively off-the-cuff manner that displays her gifts for quick, improvisational comic thinking at their best. Most celebrities might scoff at such a request. Griffin gives it her all.
One can't fake what Kathy Griffin possesses – an extra-special whip of sass and crass, beneath which resides a giving, loving soul who is true to our cause. Kathy Griffin may not be homosexual in practice, but she's as gay as any of us. And even Griffin herself acknowledges it, doing so with what one can only term as full-on Pride.
METRO WEEKLY: I'd like to start with –
KATHY GRIFFIN: I'll tell you what I like. I like that a federal court ruled part of the Defense of Marriage Act as unconstitutional. I'm just telling you. You have to understand: When I'm playing the Horseshoe Casino in Elizabeth, Ind., they don't give a fuck about this. So where am I playing in D.C., D.A.R.?
MW: I think –
GRIFFIN: Yeah, I am. I'm at Constitution Hall, Oct. 19. When I'm playing D.C., I can actually talk about the fact that in a state such as Massachusetts, where gays and lesbians can legally marry, the federal government cannot deny these couples the right to file a joint federal tax return, or to receive a survivor's benefit under the Social Security Act. Now let me tell you something. I travel all over, but I get excited when there's markets such as D.C. where I can actually talk about this.
MW: What do you talk about in other markets?
GRIFFIN: It depends. I am very market specific. When I'm in Chicago, I might make fun of Rahm Emanuel. When I'm in Los Angeles, it's probably more celebrity heavy – although my lovely D.C. friends like to say in jest that D.C. is Hollywood with ugly people. I have found that in D.C. the residents have just as much of a taste for Hollywood gossip as they do for making fun of Barney Frank, who I believe is a fake gay. I've never met a gay like Barney Frank in my life. So I believe that Barney Frank has been saying he's gay just to get votes all these years. I can't prove it, of course, it's just a theory of someone who's worked with the LGBT community and knows a lot of gay guys. But let me tell you, if you think I'm gonna be talking about Barney Frank anywhere but Boston or D.C., you are sorely mistaken.