Two local LGBT legislators will be Harvard-bound this summer.
The Gay & Lesbian Victory Institute, the educational and research arm of the Gay & Lesbian Victory Fund, which seeks to increase the number of qualified, openly LGBT elected and appointed officials, has announced that Virginia state Sen. Adam Ebbin (D-Arlington, Alexandria) and Maryland Del. Mary Washington (D-Baltimore) were part of its 2012 class of Bohnett LGBT Leadership Fellows.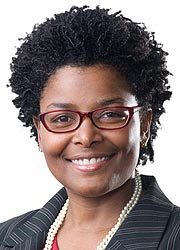 MD Del. Mary L. Washington
The fellows are a group of 11 elected officials from throughout the country receiving scholarships, provided by the Victory Institute and the David Bohnett Foundation, to attend an elite executive-development program, "Senior Executives in State and Local Government," at Harvard University's John F. Kennedy School of Government, as well as follow-up programming and networking events.
"Each of the 2012 Bohnett Fellows has already dedicated his or her life to public service and social progress," Chuck Wolfe, president and CEO of the Victory Institute, said in a statement. "We are thrilled to be able to help them reach the next step of success in their careers through participation in this outstanding program."
Both Ebbin and Washington have been at the forefront of the legislative fight for LGBT rights in their respective states. First elected to the House of Delegates in 2003, Ebbin served for 8 years before becoming the first openly gay person elected to the Virginia Senate, where he fought bills that sought to restrict LGBT equality. Washington was first elected in 2010 to the Maryland House of Delegates, becoming a strong advocate for LGBT-friendly legislation, including Maryland's recently passed marriage-equality law.
VA Del. Adam Ebbin
Former Bohnett fellows include Houston Mayor Annise Parker (D), Arizona congressional candidate and former state legislator Kyrsten Sinema (D), Dallas Sheriff Lupe Valdez (D) and San Francisco City Treasurer José Cisneros (D).
"Graduates of this program include some of the country's most visible and successful openly LGBT public leaders," said Michael Fleming, executive director of the David Bohnett Foundation. "We're proud to partner with Victory to help them grow their potential to make lasting change."