Possibly you've seen the tiny synopsis for Magic Mike and you have groaned. One stripper, Mike (Channing Tatum), takes newbie Adam (Alex Pettyfer) under his wing to teach him how it's done. Ugh. Do we really need ­– more or less – another Showgirls? (Seems we did. Showgirls 2 was released last year.)
Magic Mike, however, is more comedy than conflict. Sure, we've got some moralizing and near-overdosing, but there are laughs. That's what makes this movie so easy: Male-stripper movies are rare enough that there's plenty of material left. The penis-pump gag is hilarious. Thong shopping is a lark. Matthew McConaughey as Dallas, leader of the pack at Xquisite nightclub, in midriff T and skintight gym short-shorts sharing his tricks of the trade is priceless.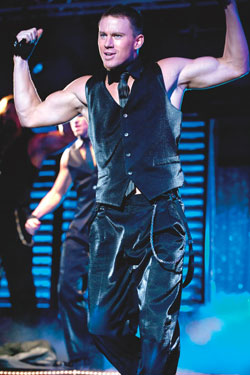 "Magic Mike" staring Channing Tatum
It's sex and drugs and rock 'n' roll – if a cover of "It's Raining Men" might count as the latter. There are stronger showings on the soundtrack, though, particularly Win Win's "Victim." McConaughey singing "Ladies of Tampa" we could do without. Unless, possibly, you are a lady of Tampa. In which case, here you go.
Speaking of Tampa, it's unlikely any movie has ever celebrated that B-list city with as much enthusiasm, with this band of merry men referred to informally as the "cock-rockin' kings of Tampa." This is no vague hot spot. Tampa gets top billing. And well it should. Tampa has a reputation for exotic dancing, even if that reputation is dubious. More fitting, Tatum got his start as stripper in Tampa. As one of the Magic Mike producers, he can call some shots. But why stop at showcasing his Tampa roots? Why not let him show-off his dance moves, too? So he does.
Magic Mike is Step Up meets Boogie Nights meets Oliver Twist, co-starring Tampa. And while the moves indeed give Mike much of his magic, Oscar-winner Steven Soderbergh, pulling double duty as director and cinematographer, mines Cigar City for all its worth.
At nighttime, he delivers Ybor City, the city's nightlife district, where the mood is jubilant. After all, in a Tampa summer – with the film taking us from June through August – it's nearly impossible to be jubilant in daytime. It's just too damn hot and humid. Soderbergh captures that sunny oppression beautifully. So many daytime scenes illustrate that with washed-out shades of yellow. The skies are not blue, so much as white hot. Tampa has its garden spots, but Soderbergh avoids them – there's that moralizing – to illustrate the bleakness of this go-go lifestyle. A day at the beach finds our posse on a muddy sandbar littered with parched, skeletal driftwood. A day at the beach, yes, but in hell. And what does this inferno sound like? You can hear it when Adam gushes about his new, amazing life of unlimited sex, drugs and frivolity under the glaring sun at a beachside bar. It's the sound of ice, smooth-edged, its corners already melted away, thunking against the sides of a plastic cocktail cup. Not the high-end, firm clear plastic, mind you, but that flimsy, cloudy plastic. It's depressing. Almost as depressing as Herman the Pig (played by Maynard the Pig), some variation of miniature pig, feasting on the heaved byproduct of the aforementioned near-overdose.
But that's as heavy as Magic Mike gets. McConaughey, who successfully lobbied to get some bongo-playing into the movie, sees to that. He plays his Fagin-like Dallas to the hilt. Channing's Artful Dodger-like Mike can't really keep up. But that's okay. Sticking to two notes – endearing goof and introspective pouter – he plays a sufficient tune. Because, well, look at that ass. You get your first view about a minute after the movie starts. Magic Mike may be short on frontal, so to speak, but it's heavy on rear views.
If you've set the bar low, Magic Mike will exceed your expectations.
MAGIC MIKE



Starring Channing Tatum, Matthew McConaughey, Alex Pettyfer
Rated R
110 Minutes
Opens Friday, June 29
Area Theaters
The best acting comes from Olivia Munn as the bisexual psychologist. Of the others, no one's acting is so bad as to be distracting. Or so good, either. Cody Horn as Brooke, Adam's caretaking sister and Mike's possible love interest, is, however, distracting in that you can't stop thinking of her as a young Sheryl Crow. "Soak Up the Sun" is bound to worm its way into your head. And the writing is likely better than you were expecting, if you can appreciate lines like, "I have that interview at T-Mobile, and they asked me to wear a fuckin' tie." Priceless.
Some movies are made for summer. They're just utterly out of place any other time of year. This doesn't mean blockbusters. This means Sisterhood of the Traveling Pants or Mama Mia! And Magic Mike, if anything, is a summer movie. It's light, even when attempting to be weighty. It's got skin, bromance, and enough story to pull you along mindlessly for its 110 minutes.