Though it is without doubt intended to please the hopeless anglophile – and slides in just in time for the post-Jubilee afterglow of the alarm clock-setting crowd – the Shakespeare Theatre Company's The Merry Wives of Windsor charms universally. It's a sweet-hearted production housing a surprisingly rock-solid dose of skillfully delivered Shakespeare.
Set in a fancifully suggested 1919 England, replete with evocative music, advertising ephemera, beautiful textiles, quick-change scenery, shapely ankles and a formidable statue of Queen Victoria, this is a feast for the easily distractible eye: cute, accessible and perfect for those of dubious stamina. Though it lags a bit during the protracted machinations of the second act and turns clownish with Falstaff's eventual attempts at feminine disguise, by and large, director Stephen Rayne keeps the Bard's comedy big, boisterous, and always all about the language.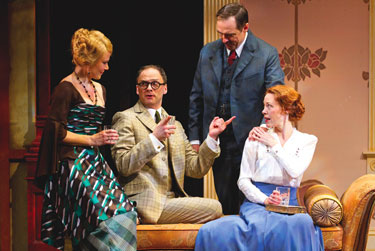 The Merry Wives of Windsor at Shakespeare Theatre
(Photo by Scott Suchman)
Even if there is little pretense to profundity in the mercenary Falstaff's backfiring attempts to turn two respectable wives into sugar-mommies, Shakespeare weaves and lobs the Elizabethan wit and wordplay with a pace and dexterity that, for those who enjoy it, delivers orgiastic pleasure. Of course, a cast with the chops is essential, and, more often than not, the goods are here, with the added bonus of some surprisingly passable British accents.
Looking the part as much as he brings it, David Schramm carries Falstaff with a finely crafted gusto. Fabulously at home with the language and vocally expressive, he has the luxury of playing his (surprisingly nimble) heft – and an equally large charisma – to the hilt. Left to his own devices, he carries the bombast and irony seamlessly. It is only Rayne's vaudevillian leanings, such as the aforementioned drag scene and Falstaff's final mime to the audience, that dampen Schramm's momentum. Less from Rayne would have been far, far more from Schramm.
Always a jewel in the crown, Floyd King as Hugh Evans, the Welsh parson and schoolteacher who rallies with the others to keep Falstaff in check, offers the perfect blend of earnest and witty, his comic timing a thing of joy and elegance. Serving as anchor for the many go-betweens as Falstaff tries to win the wives, Amy Hohn as Mistress Quickly gives her earthy housekeeper memorable color if her high-octane busybody yell-speak occasionally distracts from her excellent facility with the language.
As one of the targeted wives, Veanne Cox gives her respectable but mischievously minded Mistress Page a wry and humorous rendering and though her übertheatrical voice may at first startle, it soon proves a wonderful vehicle for some beautifully phrased Shakespeare. As the somewhat more obviously sexy wife Mistress Ford, Caralyn Kozlowski has much presence and comic sense, but has more chemistry with Mistress Page than either husband Ford or the amorous Falstaff, which rather limits the frisson and thus the humor.
As Doctor Caius, Tom Story delivers his fussy Frenchman with an "indie" comic edge that feels as true to the Shakespeare as it is funny to a modern audience. Though Story's accent is fairly terrible, his command of the language more than compensates. Working hard, but not always getting there, is an energetic Michael Mastro as Ford, the would-be cuckold desperate to catch his wife in the act. Though he's inventive with Ford's monologues on the ignominies of infidelity, Mastro's tenor of outrage, continuing without more in the way of vocal or expressive nuance, eventually loses its novelty. (It doesn't help that Mastro is in a pair of dominating spectacles.) And whether he knows it or not, his Ford also happens to sound almost exactly like Tim McInnerny of Blackadder fame, which somehow doesn't help.
THE MERRY WIVES OF WINDSOR




To July 15
Shakespeare Theatre Company
Sidney Harman Hall
610 F St. NW
$39 to $105
202-547-1122
shakespearetheatre.org
Rounding out the comic proceedings, Michael Keyloun as the malapropping Slender, eager suitor to Mistress Page's daughter Anne (an appealing Alyssa Gagarin), brings a lot of energy and good verbal timing. As his elder relative Shallow, Jarlath Conroy crafts a nicely fusty figure and offers much cleverly timed delivery. Hugh Nees as Nym and Bev Appleton as Bardolph provide solid comic support with their fair-weather Falstaff followers and Kurt Rhoads plays his straight-arrow husband Page with effective, understated aplomb. James Konicek as Falstaff's most scheming of ex-employees, Pistol, brings good energy but his elocution occasionally suffers from speedy delivery. Jimmy Kieffer as the Host of the Garter Inn anchors his scenes with good color and a rich voice that sounds like it wants to be singing opera.
Finally, mention must be made of Matthew McGee as Simple the servant who offers a strong sense of physical comedy. The rest of the cast and ensemble acquit themselves nicely in their many and varied – and sometimes multiple – roles.
And so twee as this charmingly idealized England may be, a Pims or two at the Sidney Harman bar, and you'll find much to savor in this crowd pleaser of a season-closer.