It's only natural that a drag queen named Sharon Needles would have pointed things to say, even about herself.
But it's still shocking she hits a vein every time.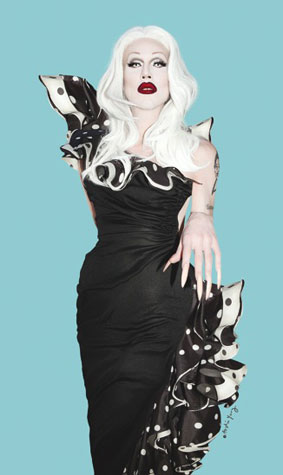 Sharon Needles
(Photo by Austin Young)
Of her performance this Friday, June 8, at Town Danceboutique, Needles says, "You can expect to see an overrated adult male who dresses up in female clothes, with the purpose of taking dark issues and putting them in spotlights – making a big ol' mess."
Needles, the latest "America's Next Drag Superstar," by virtue of winning RuPaul's Drag Race season four, likely won't be making the performance at Town – with her season four "cellmates" Phi Phi O'Hara and Dida Ritz – a regular occurrence.
"I don't plan on spending my life making my mouth go up and down to current Top 40 pop songs in smoky nightclubs in the middle of the night," she jabs.
And speaking of Lady Gaga: The pop superstar heaped praise via Tweet about one of Needles' Gaga-esque costumes on the show. While thanking her for boosting business, Needles doesn't consider Gaga, whom she met briefly, a friend. "I'm not usually friends with 23-year-old pampered girls," she stabs.
Needles guesses she won Drag Race in part because, "I demonstrated how flaw can be beautiful. I wasn't afraid to be imperfect, and I think that's what people [reacted to]."
People also gravitated to "the Needles' aesthetic," which she defines as, "based on three simple words: beautiful, spooky, stupid. That juxtaposition creates great power."
The 30-year-old Aaron Coady – the man behind the Needles – says he's been developing the character since he was a restless child in small-town Iowa, obsessed with television and especially "the exaggeration of American female consumeristic beauty." He would doll himself up in his mother's clothes, heels and makeup. "It's a fucking burden as a child to identify with what you are sexually," he says, about being gay. "To use makeup and wigs and clothes to create something that's powerful that you didn't have [otherwise], it's something really soothing and really important."
Coady fled Newton, Iowa, before he actually finished high school, opting for the bright lights of first Des Moines, and eventually Pittsburgh, which he lovingly refers to as "America's dirtiest secret." It was there where he brewed coffee at a local café by day and birthed the nom de drag by night that would go on to fulfill a boob-tube childhood dream of becoming "an over-painted lady on TV."
"Sharon is like the name of your mom or your aunt or your next-door neighbor – it's so boring," says Needles. "And then when you pair it with Needles, it's just so funny." And of course sharp, with the tie to drugs and diseases. "I loved the name because it's the main way heterosexuals get AIDS," Needles adds, if inaccurately, with a guffaw.
And yes, she is aware it's not a unique, or even trademarked, name. "I always say Sharon Needles is like a governor," she says. "There's one in every state. But I'm the only one that became president." That's a reference to a Drag Race highlight for Needles, winning the show's "Frock The Vote!" competition to become the first Drag Queen President. "Out of drag I'm really interested in politics and media," says Coady. "I've always played Needles to be kind of stupid, but this was my chance to show I know how this world works."
Sharon Needles performs Friday, June 8, as part of the Drag Show starting at 10:30 p.m. at Town Danceboutique, 2009 8th St. NW. Cover is $20, space limited. Call 202-234-TOWN or visit towndc.com.