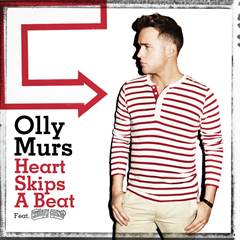 Despite the fact that I initially spelled his name Oily Murrs — and was promptly and appropriately bitchslapped over it by a mate in the UK — this singer is an up-and-comer you'll want to keep a keen eye on. Olly Murs' rise to sudden stardom began after he auditioned in 2009 for the British version of The X Factor, you know, the hit UK show that far fewer people pay attention to in its American version. Apparently, Murs prompted overlord Simon Cowell to blurt "[it was] the easiest yes I've ever given." And as we all know, Simon is not just a girl who can't say no.
Murs has since achieved international success including two double platinum albums and three #1 singles in the UK. To date, he's sold over 4 million records internationally.
We offer you "Heart Skips a Beat," the singer's debut single featuring hip hop duo Chiddy Bang. (Of course, with a title like that Murs may want to get the ticker checked out for arrhythmia, but then he's likely a little young for a heart attack.) The song is available digitally via iTunes.
For fun, I've also included Olly's appearance on the uproarious Innuendo Bingo on BBC Radio 1. If only our radio programs were as blatantly funny (or creative) here in the states.
Murs is currently opening for that other British phenom, One Direction, you know, those five vexing teenage chipmunks. For a full list of tour dates visit ollymurs.com.
Get Soundwaves in your inbox. Join our mailing list.