This morning, in a conference call with reporters, Homeland Security Secretary Janet Napolitano announced a new policy of "deferred action" for certain young, undocumented immigrants who meet a series of conditions, stopping deportation of a group of people in the country who would be covered by the passage of the DREAM Act.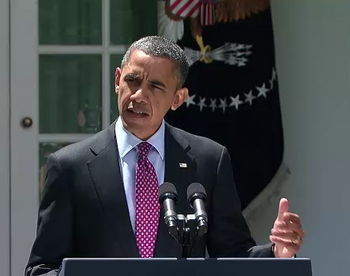 In a Rose Garden address later today, President Obama noted that his administration, in the absence of congressional action on immigration reform, has utilized its prosecutorial discretion to focus on high-priority cases for immigration enforcement in order to, in his view, improve the system.
Of the latest DHS news, he said, "Today, we're improving it again."
According to DHS, under the new policy, "certain young people who were brought to the United States as young children, do not present a risk to national security or public safety, and meet several key criteria will be considered for relief from removal from the country or from entering into removal proceedings."
Unlike the DREAM Act, there is no end result in today's action in which so-called DREAMers would be able to obtain citizenship and the decision could be reversed by a future administration. The deferred action, however, will enable those covered by the action to apply for a work permit and the two-year deferred action can be renewed.
Of the limits of today's action, Obama said in his address, "This is not amnesty, it is not immunity, it is not a path to citizenship, it is not a permanent fix."
Today's action regarding the DREAMers is a similar action to that sought by Immigration Equality and Stop the Deportations regarding same-sex binational couples who face separation because they are barred from getting a spousal-based green card because of the Defense of Marriage Act.
Rachel Tiven, the executive director of Immigration Equality, celebrated today's move, saying, "Today's announcement is great news for our country. The young people who will be positively impacted are our classmates, our colleagues, our friends."
She added, however, "[N]o person should face forcible separation from their families, regardless of their age. That is why the White House should follow today's announcement with a proposal to extend that same relief to immigrants with U.S.-citizen partners and spouses across the board. Keeping families together is good policy, and all families, including those that are LGBT, should have the support of the President in the form of a similar policy."
In fact, asked in May and July of 2011 about the possibility of a blanket policy to defer action on the green card applications of same-sex binational couples, White House press secretary Jay Carney would only say of Obama, "he can't just wave a wand and change the law."
Although there was no wand at today's Rose Garden announcement, the administration's action was taken with no additional legislative support and Napolitano told reporters that "today's decision is well within the framework of existing laws."
In the Rose Garden, Obama specifically noted that he had met with people who could be impacted by this change and added that "some have come forward at great risk to themselves and their futures."
One of those, Prerna Lal, wrote an Opinion column for Metro Weekly in 2010 addressing the DREAM Act, and today she wrote at her website of her cautious, bittersweet happiness about the decision.
"There's no way that this news would have come about had it not been for the hard-work of undocumented youth organizers across the country. Whether it was the phone calls you made, the letters you wrote, the petitions you signed, the media interviews you gave, the offices your occupied and emptied, or the many ways in which, you came out and put your lives on the line, today is a victory for you besides being a victory for the President."
But, Lal, who is on the board of Immigration Equality in addition to being a DREAMer herself, added, "This is certainly bittersweet and my thoughts go out to everyone who has aged out, everyone deported and everyone, especially our friends Tam and Cintia, who are no longer with us, and everyone still languishing in detention.
"At the same time, I want everyone to exercise caution. This is not an executive order. This is a further exercise of discretion, dressed up as an executive order."
Talking to Metro Weekly about today's developments and their relevance to non-immigrant LGBT people, Lal said, "We are your partners, friends, co-workers, neighbors and in many cases, members of your community."
Of the further actions that could be taken through legislative or executive action, Lal said, "The announcement is a step towards building an inclusive progressive base to fight for comprehensive immigration reform, which should help bi-national LGBT couples, asylum seekers and many queers languishing in detention."
READ the specifics of the DHS announcement below the jump.
* * *
From the Department of Homeland Security:
Under this directive, individuals who demonstrate that they meet the following criteria will be eligible for an exercise of discretion, specifically deferred action, on a case-by-case basis:
Came to the United States under the age of sixteen;
Have continuously resided in the United States for a least five years preceding the date of this memorandum and are present in the United States on the date of this memorandum;
Are currently in school, have graduated from high school, have obtained a general education development certificate, or are honorably discharged veterans of the Coast Guard or Armed Forces of the United States;
Have not been convicted of a felony offense, a significant misdemeanor offense, multiple misdemeanor offenses, or otherwise pose a threat to national security or public safety;
Are not above the age of thirty.
Only those individuals who can prove through verifiable documentation that they meet these criteria will be eligible for deferred action. Individuals will not be eligible if they are not currently in the United States and cannot prove that they have been physically present in the United States for a period of not less than 5 years immediately preceding today's date. Deferred action requests are decided on a case-by-case basis. DHS cannot provide any assurance that all such requests will be granted. The use of prosecutorial discretion confers no substantive right, immigration status, or pathway to citizenship. Only the Congress, acting through its legislative authority, can confer these rights.
While this guidance takes effect immediately, USCIS and ICE expect to begin implementation of the application processes within sixty days. In the meantime, individuals seeking more information on the new policy should visit USCIS's website (at www.uscis.gov), ICE's website (at www.ice.gov), or DHS's website (at www.dhs.gov). Beginning Monday, individuals can also call USCIS' hotline at 1-800-375-5283 or ICE's hotline at 1-888-351-4024 during business hours with questions or to request more information on the forthcoming process.
For individuals who are in removal proceedings and have already been identified as meeting the eligibility criteria and have been offered an exercise of discretion as part of ICE's ongoing case-by-case review, ICE will immediately begin to offer them deferred action for a period of two years, subject to renewal.