Chicago. Cabaret. Liza with a "Z." Certainly gays are familiar with the musical output of the showy songwriting duo John Kander and the late Fred Ebb, who fueled the career of Liza Minnelli. Still, many relatively theater-obsessed queens will be surprised they don't recognize more of the tunes in First You Dream…The Music of Kander & Ebb.
The smooth revue, now at the Kennedy Center Eisenhower Theater, serves up many of the signature songs from Kander and Ebb's best-known productions. These include the title song from the film New York, New York, which has been the city's official anthem for three decades now. Yet the show drastically reinterprets many standards as ballads or lilting jazz ditties. And with a whopping total of 38 songs, most get truncated to some degree or another. (And still the show lingers for too long, nearly two hours and a half.)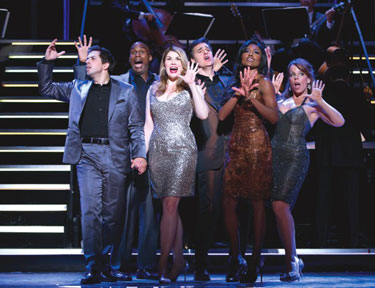 First You Dream
(Photo by Joan Marcus)
We don't learn much about the men who made the music, or how certain songs or shows came to be. The only thing we learn comes from a short, recorded remembrance from Kander about the partnership, which introduces the show. There's no mention that the two men were gay but not, in fact, lovers – a false rumor fueled by the fact that Ebb, especially, was reluctant to share any details of his private life. (Kander dispelled the rumor years ago.)
But all of that is beside the point to Eric Schaeffer, who first conceived of the show – with longtime Kander and Ebb collaborator David Loud – at Virginia's Signature Theatre as a way to honor the music of Kander and the lyrics of Ebb, and nothing more than that. Schaeffer sells the show with a 23-piece orchestra – larger than even many big-budget Broadway shows these days – and places the musicians on multi-tiered risers right on the stage, ably led by Signature's house conductor Jon Kalbfleisch. They in effect become the seventh actor – last but by no means least.
Three of the original six performers return to the show from the 2009 Signature production, including the show's true standout Heidi Blickenstaff. She channels Liza, hamming it up throughout, leading the cast in some of the best numbers, including "Sing Happy" from Flora, the Red Menace, "Ring Them Bells" from Liza with a 'Z' and especially "Boom Ditty Boom" from 70, Girls, 70.
All in all, First You Dream is in a more solid state at the Kennedy Center, from the strong cast to the effective crew, which includes Tony-winning lighting guru Howell Binkley (Jersey Boys). And while it does lose some of the warmth that came from its staging in the more intimate Signature MAX Theatre space, you never question the show's place in a bigger, storied venue. Are organizers dreaming of Broadway next?
MEMPHIS THE MUSICAL tends to surprise people. Experienced theatergoers may avoid the show, thinking it offers nothing new or original – even though it won four Tony Awards in 2010, including Best Musical. Others may opt instead to see another big-budget show promising a more fantastical story or otherworldly staging.
First You Dream



1/2
To July 1
Eisenhower Theater
$65 to $125
202-467-4600
kennedy-center.org
But take a chance on the show, and you'll likely walk away with an appreciation for the way in which Joe DiPietro tells a shopworn tale about rock and roll's role in the mid-20th century of improving American race relations – even as the African-American-created genre, for all intents and purposes, became a white enterprise. And while David Bryan's music isn't groundbreaking, it is as big and hummable as you'd expect coming from the keyboardist from Bon Jovi – yes, the power-pop hitmakers. In fact, Bryan's music is generally better than you'd expect, channeling the best of R&B, rock and gospel. There's no "Bad Medicine" here, or anything else that could give pop music a bad name. And coupled with Sergio Trujillo's sharp-fleeted choreography, the show offers enough Broadway pizazz to keep your faith.'
Memphis focuses on an aspiring black singer Felicia (Felicia Boswell) and a popular white radio DJ Huey Calhoun (Bryan Fenkart) – loosely based on real-life '50s-era Memphis DJ Dewey Phillips – who bond over music. DiPietro won a Tony for Best Book here even though the couple's relationship is a stretch to believe. What exactly does the sophisticated, supremely talented Felicia see in the aw-shucks eccentric Calhoun? Calhoun as written is exceptionally hard to love, or even like. Fenkart, who understudied the role on Broadway, does his best to help the audience understand and sympathize with Calhoun.
But really it's Felicia's show, and Boswell, who was the role's Broadway understudy, is nearly as phenomenal in the role as Montenegro Glover. (Glover was robbed of the Tony for Best Actress in 2010 by Broadway dabbler Catherine Zeta-Jones.) By show's end, you're happier seeing Felicia succeed without Henry than you'd expect from a Broadway show – even more surprising, Henry winds up chiefly as a sad-sack character, who loses both the love of his life and his successful career. At least he still has his Mama (Julie Johnson), who sees the light of her racist ways and stops the show with her turnaround number, belting "Change Don't Come Easy" as if she were the lead vocalist in a black gospel choir, and not a white country bumpkin.
Memphis




To July 1
Opera House
$65 to $125
202-467-4600
kennedy-center.org
All told, then, Memphis is far edgier than it sounds. For proof just gander at the titles to a couple of its best songs: "Everybody Wants to Be Black on a Saturday Night" and "[Don't Let Anyone] Steal Your Rock 'n' Roll." The show throws a few truth-telling jabs in its recounting of American pop music history that Hairspray, to name Memphis's most obvious Broadway antecedent, glossed right over.
Memphis, in other words, doesn't sugarcoat much of its story – but chances are your musical sweet tooth will be sated all the same.