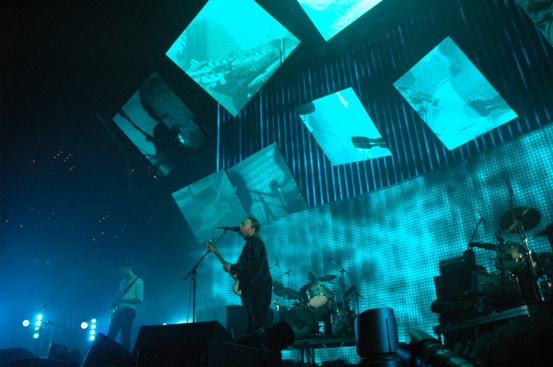 Radiohead is that kind of group that means so much to so many different people in so many different ways. I'm one of those people.
In 2004 Hail to Thief's eerie melodies and prescient lyrics got me through a blissfully melancholic first love. By 2010, In Rainbows had seen me through a brutal period of uncertainty (messy breakup, unemployment, no hopes of finding an affordable apartment, impossible undergraduate thesis, you know the drill) and then restored my faith in love, humanity, and the world in general. Yes, Radiohead is one of those bands that just gets you — and gets you through. It's music that simultaneously makes better your "OMG-my-world-is-ending-only-fried-food-and-Buffy-will-fix-this" moments, while also being high enough art to teach us something we didn't know before, the music speaks to our experiences in poetry and paints our emotional lives in colors we've never felt.
I had the chance to see them in their recent concert at the Verizon Center. It was my first time seeing them live.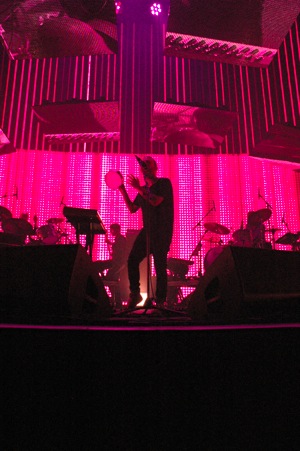 Thom Yorke appeared on stage. His presence was startling. He wasn't like Gaga or Madonna or even Chris Martin. He didn't command the stage in the way many front men and popular musicians do. He began quietly. The group opened with Bloom from their latest album, The King of Limbs, and Yorke began to shake. He wriggled there energetically as the instrumentals warmed the audience, morphing from a kind of small, normal looking thing into Thom Yorke. His presence and voice, like the song suggested, gradually and guilelessly bloomed. Suddenly he was this frenetic, bouncing, otherworldly icon. The show was underway.
Many artists fail in the space between the recording studio and a live performance, but Radiohead isn't among them. Beautifully mixed and wonderfully articulated, the live experience was an augmentation of their records and of the music. Their set was immersive — there was a several story high wall of LED lights, constantly flickering neon textures. Twelve square panels hung above the musicians, constantly moving and changing directions and orientations, reconfiguring for every song, and showing always the faces of the band members as they performed, an expressive visualization mutable enough to match the depth of mood in Radiohead's work.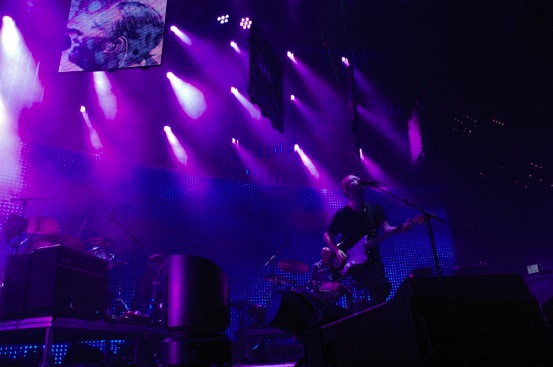 Highlights included Nude, Yorke's beautifully tentative vocals dancing mercilessly, and the closing number Reckoner, both from 2007's In Rainbows. Both songs were used with purpose, bringing the audience back to the common and curiously searching thematic emotional center of the music. The pacing and rhythm of the set list was calculated, and to great effect for fans who knew the music well. Although the band's presence (especially Yorke's) felt at times provisional, it was clear what they gave, they gave to the music. Many artists work for their fans, for their show. But Radiohead gave to their music, and the music gave to us.
The show was a communion. Both the artists and the audience gave reverence not the genius of the creator onstage, but the magic in the creation. By the end of the show, I had re-lived my adolescence and early young adulthood, but with hundreds of other people each feeling their own experience and journey. That is a great concert, a success of art: bringing together otherwise impossibly diverse people and uniting them under a precisely alchemic experience.
Guest contributor Christopher Cunetto is a co-founder of the Washington, D.C.-based gay arts cooperative Boys Be Good, whose current exhibit Debitum Nature is on display through July 17 at Arts@1830, 1830 14th St. NW, in Washington, D.C. Read the Metro Weekly interview with Cunetto and his Boys Be Good co-founder Jason Edward Tucker here.
Radiohead photographed for Metro Weekly by Christopher Cunetto