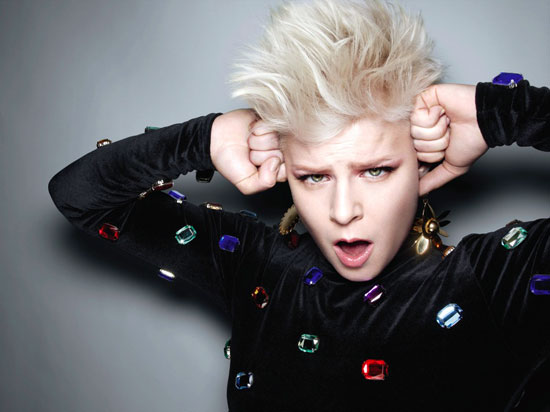 Robyn
Why do gays around the world love Robyn?
"I think it would be ignorant of me to assume all gay people are the same, and the reason why you like me is the same reason everywhere, so I don't know," says the Swedish singer. "But I think the gay community has always gravitated towards music that has been a part of or a reference to club culture. That's where gay culture has developed and shaped itself."
Robyn's style of dance-pop is, of course, very much part of club culture. In fact, Robyn puts on a regular party at a club in her native Stockholm in between international tours "as a way for me to stay in touch with clubbing…a culture that I kind of grew up around."
Robyn will give D.C. a taste of those Swedish parties when she appears at U Street Music Hall next weekend, in advance of her shows opening for Coldplay at the Verizon Center. "Some of my fans don't get tickets to these kinds of shows," says Robyn, who last year opened for Katy Perry and has also opened for Madonna in Europe. So having parties in select cities "is just a way to connect back to my fans." Though Robyn is billed as offering a "DJ Set" at U-Hall, she says, "I'm not a DJ, I don't DJ. I mix very rarely. I [just] select the music." She adds, laughing, "I just press play and stuff."
Robyn, who presents herself as a strong woman with an eclectic, fearless fashion sense, suggests another reason gays may gravitate toward her is because "there's a quality to my music which is melancholy." Her music is also often dramatic – with dominating beats and synth lines coupled with emotionally resonant or provocative lyrics.
"I'm just interested in that part of life," she says, "where it gets a little bit complicated and sometimes it's like the best place to be, sometimes it's the worst place to be – the most. It's always a stimulating place to be, in a way."
Robyn opens for Coldplay Sunday, July 8, and Monday, July 9, at 7 p.m., at Verizon Center, '601 F St. NW. Tickets are $42.90 to $125.65. Call 202-628-3200 or visit verizoncenter.com. Robyn spins Saturday, July 7, at 10 p.m., at U 'Street Music Hall, 1115A U St. NW. A few remaining $30 tickets will be made available at the door. Call 202-588-1880 or visit ustreetmusichall.com.