The Men is a new band from Brooklyn that JD Samson says plays "really heavy music, somewhere between hardcore and metal." In other words, it sounds nothing like Samson's band from Brooklyn, originally known as MEN.
"I think we're somewhere in between being an electronic, punk [and] guitar band," says Samson, who cites '80s-era new wave band the Talking Heads as a key influence. "They made really groovy and funky music that's really danceable, but it is [lyrically] always about something." In recent years Samson's spunky band has opened for similar-sounding acts Gossip and CSS.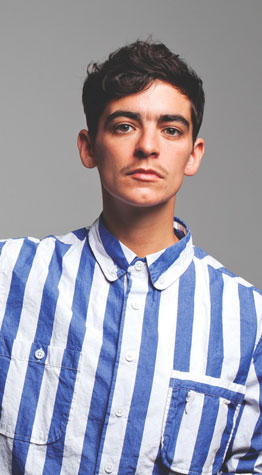 JD Samson
(Photo by Allison Michael Orenstein)
But it wasn't until earlier this year when a few clueless fans mistook a MEN concert for The Men and caused "a little bit of a conflict" that Samson's group further distinguished themselves, becoming known as JD Samson & MEN.
And just how many members of MEN genetically have a Y chromosome? "We try to not really think about gender – that's the whole point," Samson says. In fact, it's hard to keep up with the rotating cast of players of what Samson calls a collective, regardless of gender. But bassist Michael O'Neill is the only man who has been with the band since the start. Back then, Samson and Johanna Fateman, who first worked together in the feminist dance-punk trio Le Tigre, coined the name in part to push themselves to be more assertive and demanding – more like men. "We should all have confidence in who we are, and also everyone should be treated the same," she says.
These days Fateman is less directly involved in the group, but she and Samson still work together as freelance music session producers, developing album tracks with various artists, most notably Christina Aguilera on 2010's Bionic.
This Friday, June 10, Samson will appear solo as a DJ at WildLife, the official Capital Pride party with party promoter Brightest Young Things at the revived Howard Theatre.
"I'm kind of like a people-pleaser DJ," says Samson, "so I generally play what I think everybody wants to hear, or what will make them have the best time," everything from disco to house to today's club hits. "And usually during Pride season I play a lot of songs that are uplifting and make people feel positive." Which, of course, very well could include a remix or two from her band. This year's "Make Him Pay," for example, was originally written as an anthem for the occupy movement, but it could easily do the Pride job.
"Not gonna ask for your permission just to live in my skin," Samson chants in the song. "Pretend to play a game that I can never win."
That's a cocksure attitude for you.
JD Samson serves as a DJ Friday, June 8, at 9 p.m., at WildLife at the Howard Theatre, 620 T St. NW. Tickets are $20 in advance, or $25 day-of. Visit capitalpride.org.