"I'm gonna let you have it," the Scissor Sisters' Ana Matronic says halfway through Magic Hour. And on "Let's Have A Kiki," the self-described drag queen-trapped-in-a-woman's body gives it to us all right. The wild jam, which owes a huge debt to Kevin Aviance (and Grace Jones) and features the showy vocal stylings of Paul Alexander of The Ones ("Flawless"), is cued up to be the song of the summer, at least in gay circles. It's already a hit out and about.
"Let's Have A Kiki" just may be the gay quartet's best novelty number yet – which is saying a lot from a band whose breakthrough was a disco-fied cover of Pink Floyd's "Comfortably Numb." Since 2004 the band has garnered attention courtesy of several songs offering awe-inspiring audacity, from the partly "Thriller"-inspired club banger "Invisible Light" off of the band's last set Night Work, to the song that "Let's Have A Kiki" builds from most: the over-the-top dance-rock stunner "Filthy/Gorgeous" from its self-titled debut.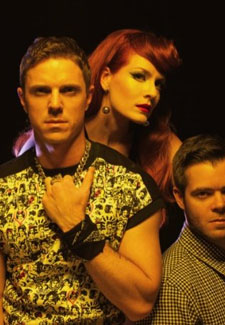 Scissor Sisters
But in fact, "Let's Have A Kiki," the rare, wondrous track with Ana Matronic out front, isn't the only choice novelty cut off of Magic Hour. "Keep Your Shoes On" is a song merging hip-hop and house, with frontman Jake Shears rapping over a patty-cake beat and wild, dissonant techno washes that would turn Beyoncé's ear. Shears also raps on "Shady Love," sounding so much like Cazwell, I had to confirm the gay New York rapper wasn't a featured guest on the track. It is indeed Shears, spitting alongside beautifully voiced newcomer Azealia Banks on a song that channels the '80s, from its early hip hop beats and style to its main melody recalling Anita Baker's 1986 hit "Sweet Love."
Magic Hour follows 2010's Night Work, a wonderfully realized concept album offering an excursion to a nightclub, with nary a slow song in the bunch. The more varied new set is only slight less stunning, and it works better as a whole package than either of the band's first two albums, which were both too happy and too sad. With those two sets, you gravitated toward individual songs, depending on your mood. You didn't necessarily feel compelled or inspired to listen all the way through, from first track to last. It could be too much to take.
Magic Hour is a more steadied — and far warmer — set. The giddy highs from the novelty cuts are cushioned by lows that are restrained and realistic – mature – mostly having to do with the growing pains of a long-term relationship. The album opens with the wistful rocker "Baby Come Home" – a quintessential Elton John-colored ditty, though it's John Legend on piano and backing vocals this time – in which Shears pines for his lover to return from a night out on the town. "I don't mind if you're running around, givin' someone the time," Shears sings. But their open relationship is taking its toll. "This 'don't give a fuck' gets a little bit lonely," he sings.
Scissor Sisters
Magic Hour
Casablanca
$11.35





"Best In Me" is a sweet, lightly dub-step uptempo ballad in which Shears sings about the happiness he gets from his lover. "You take what's good and make it better in me," he deliberately sings in the bridge, as multi-tracked vocals from the chorus swirl around him: "You know how to find the best in me."
The album ends in trance-like bliss, just as Night Work did. Actually, "Somewhere" – one of only two songs here shaped by Night Work's production wizard Stuart Price – sounds like a coda to "Invisible Light," and the two would pair nicely in concert. "Somewhere there's a sky for only me," Shears sings. Yearning never sounded so good.
Download These: "Let's Have A Kiki," "Best In Me,"
"Somewhere"
LIKE THE SCISSOR SISTERS, GOSSIP is an American band with little more than a cult following at home, but widespread success overseas, particularly Europe. Beth Ditto – a lesbian with a plus-size voice to match her frame — leads Gossip, a soulful dance-punk band that has previously opened for Scissor Sisters. Gossip should be better known here, at the very least among the Sisters' set. Gossip is edgier and angrier than the Sisters – "I'd love to stay and party but I've got to go to work," Ditto spits on hissing new track "Get A Job" – but the two bands' sassy energy and passion for club beats are very complementary.
The band recently released its fifth studio album, and second since its 2006 breakthrough Standing In The Way of Control, which featured the blistering title track about the push for marriage equality. It's also the first since Ditto's four-song solo EP from last year. Only "Get Lost" dabbles in the early house sound that made that self-titled EP so brilliant, especially its single "I Wrote The Book."
A Joyful Noise
Columbia
$10.85




But just as with that EP, A Joyful Noise mostly finds Ditto smarting from what was clearly a bad breakup – though here, she's mostly optimistic about her future. "Keeping my head up, looking forward. Reminiscing will get you nowhere," Ditto sings in the bridge of new single "Move In The Right Direction," one of the album's strongest songs and a real contender for song of the summer. "Never say never, starting over. It's not perfect, but it's getting closer." It's certainly close enough.
Download These: "Move In The Right Direction," "Get Lost," "Love In A Foreign Place"