"People have told me that they feel empowered, that my songs are so empowering," singer Deborah Cox told Metro Weekly in 2010. "Even though some of the stories may have been about heartbreak, there's always some kind of triumphant-ness. A feeling of empowerment at the end of the day."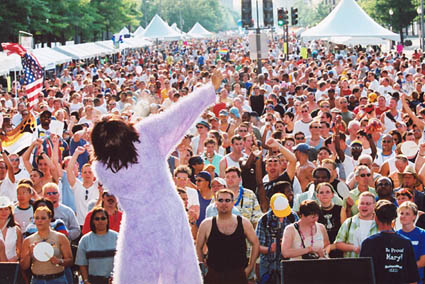 Cox will help close out this year's Capital Pride on Sunday, June 10, performing from the festival Main Stage. But she's just the last and biggest name to take Sunday's Pride Main Stage. Fellow hitmakers Crystal Waters and Pepper Mashay also return this year, along with Pride perennials the Gay Men's Chorus of Washington, D.C., and the DC Cowboys, in the latter group's swan song (see page 66). Notable debuts include the critically heralded new band Alma Tropicalia, based in D.C. but steeped in the rhythms of Brazil, and the new conceptual pop partnership between veteran club DJ Alex Lauterstein and singer SIRPAUL, known together as Simulover.
Of course, Capital Pride officially started Wednesday, May 30 – and this weekend alone there's a lot to pack in, beyond the signature Parade and Festival. On Friday, June 8, transsexual celebrity Amanda Lepore and lesbian dance artist/DJ JD Samson (Le Tigre/MEN) headline the first queer event at the newly renovated Howard Theatre. That same night Town brings in drag queens Sharon Needles, Phi Phi O'Hara and Dida Ritz, all from this year's RuPaul's Drag Race. Beacon Bar & Grill hosts a Pride Brunch Saturday, June 9, and then pre- and post-parade JR.'s offers an outdoor Beer Garden. Phase 1 of Dupont hosts that evening's official Pride party, which is geared to the women, while your many other options include Blowoff at the 9:30 Club, DJ Joe Gauthreaux at Cobalt, DJ Manny Lehman at Town, and Secrets offering a pre-Festival performance by Pepper Mashay.
Are you ready? As Mashay shouts it, "Let's get soaking wet!"