June is a popular month for weddings, with a multitude of happy couples marching down the aisle to tie the knot. And with D.C. same-sex couples being able to legally wed since March of 2010, the capital area's wedding industry is finding itself with a whole new market bringing a fresh look to many of the conventions that go with marriage.
According to many professionals in Washington's wedding industry, both local same-sex couples and those coming to Washington from other regions to get married, especially from the South, express confidence in the future of marriage equality. In spite of setbacks such as the recent passage of Amendment One in North Carolina, they are encouraged by more positive news like President Obama's recent statement supporting marriage equality.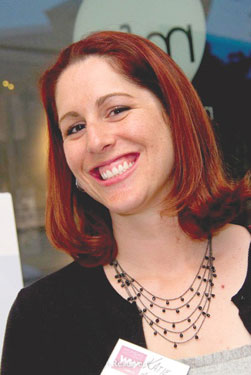 Katie McElroy of Main Event Caterers
(Photo by Pete Exis)
In many ways, however, the legalization of same-sex marriage can prove to be a brave new world with many unknown areas. With marriage equality being such a new concept, how should a couple approach their impending nuptials? Manuella Hancock of Hancock Legal PLLC, a Washington law firm, advises that prospective newlyweds should spend time focusing on the living and financial arrangements they foresee as the years pass by.
"Couples should anticipate potential challenges that can arise, such as tensions with biological family members, finances, and life changes such as the unexpected death of a spouse," she says.
Hancock suggests a prenuptial agreement is helpful in this regard, since it essentially forces a couple to focus on their financial and living arrangements. It also provides a record of the couple's agreement in case there are future disputes.
She adds that LGBT couples tend to be more conscious of what it means to be married largely due to the hard-fought nature of marriage equality and the potential for having some or all rights pertaining to it rolled back. This focused attitude is possibly a key reason the dissolution rate for same-sex marriages is far lower than that of heterosexual unions in states where marriage equality is the law.
And when LGBT couples set out to plan their big day, they tend to dispense with tradition and put their own personal stamp on the proceedings, says Katie McElroy of Main Event Caterers.