It's nearly summer and pride is in the air.
Thousands of locals and out-of-town visitors lined up along the District's streets and crowded onto Pennsylvania Avenue to celebrate Capital Pride Saturday, June 9, and Sunday, June 10.
While Pride activities technically began May 30, the main events were the Saturday Parade and Sunday Festival. Between the two, attendees were treated to live musical and dance performances, athletic demonstrations and a chance to meet nearly every LGBT organization in the area.
Amid Sunday's 90-degree heat, shirtless men and bikini-clad women mixed with people in costumes and organization T-shirts. Close to the main stage, a fire hose sprayed the crowd to cool things down.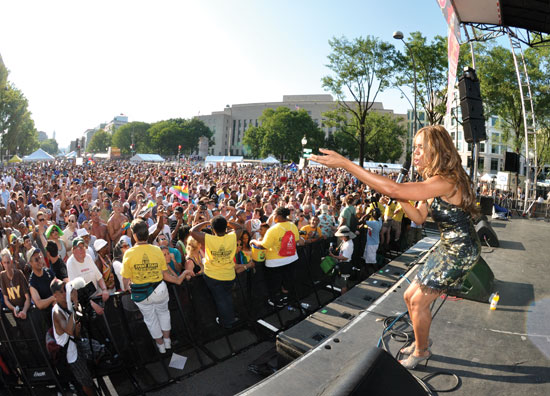 Deborah Cox at Capital Pride 2012
According to Missy Toms, director of external affairs for Capital Pride, festival attendance was about 250,000, which she said was definitely higher than 2011. As of June 11, Toms didn't have final numbers this year's fundraising, saying people may still be using the text-by-donation feature. That said, she expects to pass 2011 fundraising totals, pointing to amped up efforts such as "Friends of Pride," which offers special Pride packages at various donor levels.
Following Saturday's parade, organizers named 10 parade contingents winners. Pushing the limit with an over-the-top combination of presentation and emotional content was the ACLU of the Nation's Capital, which took home the Lady GaGa Award for Best Incorporation of a Theme. La Clinica del Pueblo won the Nancy Sinatra Award for best marching contingent, while Tim Coburn Photography, with two lines scantily clad male dancers, took home the Liberace Award for the most outrageous float. In remaining categories, the winners were Ziegfeld's/Secrets; Big Apple Corps; the Sexual Minority Youth Assistance League (SMYAL); AtlasVet; the Peace Corps; Parents, Family and Friends of Lesbians and Gays (PFLAG), and, in their first appearance at Pride, Thai Tanic.
"Pride means celebrating who we are, with no regrets, and, as DC Cowboys, we like to leave a smile on everyone's face," said Kevin Platte, founder of the DC Cowboys. The 18-year-old dance troupe marked its final Capital Pride appearance as the group winds down its farewell season.
"Pride, to me, means celebrating who we are – no matter who we are – which we do all year round," echoed Jim Slattery, president of the Beltway Bears social and fundraising club. "But we're glad to come together from all different tiers of the community to celebrate."
The weekend crowds were also full of straight allies, including Linda Levy Grossman, president and CEO of theatreWashington.
"I've been working in the theater for over 30 years," Grossman said at Sunday's festival. "I have a family that is part of the GLBTQ community. [Pride] means everything. It is incredibly important that people that I love are accepted and appreciated and respected as they should be."
The mood was just as festive behind Sunday's Main Stage. Billboard Music Award and three-time ASCAP Award winner Crystal Waters, a Washington local, said this year marked her sixth Capital Pride.
"From the beginning, the gay community has always been my core fan base," she said. "They've always supported me. People always ask me why do I think that is. I don't know, I'm just thankful."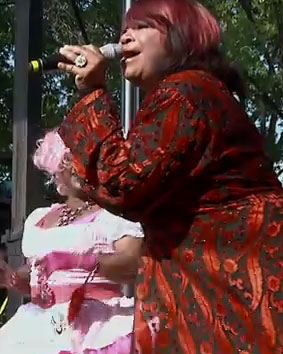 Pepper MaShay, known best for her powerful vocals featured in her hit "I Got My Pride" and on the Barry Harris club hit "Dive in the Pool," told the audience at Pride that it was her "wish" to come to Capital Pride, "in Obama's house."
Backstage, MaShay told Metro Weekly she felt it was important to come to Washington to make a statement. MaShay, who is celebrating her one-year anniversary in a relationship with a woman, having been married to a man for 27 years, said she felt President Obama's declaration of support for marriage equality was an important moment, because of his status as the first black president.
"The black community has pretty much been sitting on the fence, in terms of our brothers and sisters, and our family members being in the closet and having to stay there," she said. "And now it's like everyone is coming out of the closet to be themselves, to be full human beings, with full rights, to pursue their happiness. I feel there's a change in the air, as long as people get out and vote to voice their right to a full life."
Come see our hundreds of photos from the Parade and from the street Festival.
Also, hear some of the fabulous performances from the Festival stage: Deborah Cox, Crystal Waters, Pepper Mashay, DC Cowboys.