While Massachusetts Democratic Senate candidate Elizabeth Warren says she supports the Respect for Marriage Act, which would repeal the Defense of Marriage Act, comments related to marriage equality in a recent interview should not be read as an endorsement of federal legislation guaranteeing the right to marry to all same-sex couples, her press secretary tells Metro Weekly.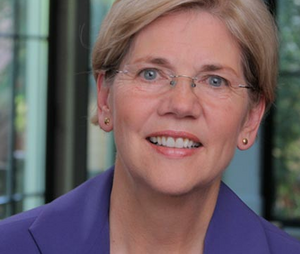 On Friday, June 8, Salon reported that Warren "wants [President Obama] and the Democratic Party to … push for a national law guaranteeing the right to same-sex marriage for all Americans."
Today, her campaign tells Metro Weekly that she was not going that far and was instead referring in an interview to her support for the Respect for Marriage Act (RMA), "as it is the only bill before Congress that deals with federal recognition of marriage for gays and lesbians," Warren's campaign press secretary, Alethea Harney, said in a statement.
Talking with Salon reporter Alex Seitz-Wald at Netroots Nation, Warren called DOMA "despicable" — but additionally, in response to Seitz-Wald's questioning, appeared to have endorsed the prospect of congressional action requiring that states allow same-sex couples to marry.
The transcript of the interview, which Salon provided to Metro Weekly, includes a "yes" from Warren to Seitz-Wald's question about "guaranteeing equality," but the candidate then pivoted to her opposition to DOMA:
SALON: You called for, early on, a plank in the Democratic Party platform for marriage equality and now we have the president coming out and endorsing it —
ELIZABETH WARREN: Excuse me, excuse me. [Dances] Yes. You wish you had film of that.
SALON: I really do, yeah. But he said it should be left up to the states. Would you like to see him and the party go further and push for a federal law guaranteeing equality?
WARREN: Yes. I believe in marriage equality. Done. Game. Set. Match. Okay? And I think DOMA is despicable.
Asked by Metro Weekly whether Warren was endorsing federal legislation guaranteeing the right of same-sex couples to marry, Harney today said in a statement, "Elizabeth Warren strongly supports marriage equality and the Respect for Marriage Act. That bill would repeal DOMA and would require the federal government to treat all married couples the same in terms of federal benefits. That's what she was referring to, as it is the only bill before Congress that deals with federal recognition of marriage for gays and lesbians.
Harney concluded, "Elizabeth proudly stands with the LGBT community in its fight for equality and an end to discrimination, and she will continue to do so as a U.S. Senator."
Federal legislation guaranteeing marriage equality across the country has not thus far been pursued by LGBT advocates, and several leading organizations on the issue did not respond to a request for comment from Metro Weekly as to whether they would support such a proposal.
Additionally, the concept would go further than the RMA, which Harney says Warren supports. The RMA, introduced in both the House and the Senate in the 112th Congress, would repeal DOMA and guarantee that a couple legally married would continue to have their marriage recognized by the federal government even if they moved to a state where their marriage was not recognized. The legislation would not, however, guarantee marriage equality across the country.
Legally, the concept of a federal law to guarantee marriage equality also runs counter to an essential argument made in many judicial decisions striking down Section 3 of DOMA, with the U.S. Court of Appeals for the First Circuit noting in its May 31 opinion that "DOMA intrudes extensively into a realm that has from the start of the nation been primarily confided to state regulation — domestic relations and the definition and incidents of lawful marriage."
Although the arguments against the constitutionality of Setion 3 of DOMA relating to discrimination against LGB people based on sexual orientation and the limitations that it places on the fundamental right to marry — the equal protection and due process arguments, respectively, in legal parlance — would not be constitutionally problematic for a law that expanded the scope of marriage rights, the federalism questions raised in the First Circuit opinion, as well as in the opinion from June 6 in Edith Windsor's DOMA challenge, would remain with a federal marriage equality law.
UPDATE @ 5:20P: Another reason, legally speaking, why such legislation hasn't been discussed often is that the authority of Congress to pass such a law would be tenuous unless the Supreme Court were to hold that same-sex couples have a constitutional right to marry. In that case, then, such a law likely would be unnecessary.