Don't let the title fool you. "Coming out after 65: Health Implications for Gay Male Elders" is going to cover plenty of territory, with enough to hold the attention of any gay man, millennial to mature.
"The title might be misleading. It's open to all ages," promises workshop facilitator Ken South, 66, president of the Prime Timers of D.C., "a social club for mature gay men and their admirers." That's not so say South is just a socializing party boy. He's served on the Presidential Commission on AIDS. He's the credentialing director at the American Academy of HIV Medicine. You could say he's a mix of the professional and the playful – though he doesn't take the playful lightly. It's one of the points he hopes to convey at his Gay Men's Health Summit workshop.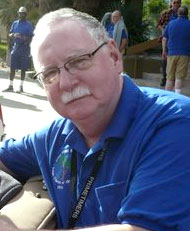 Ken South
"For young gay men today, I think it's terrific for them to think of themselves as 85, what it would be to be a happy 85-year-old gay man, fully engaged and having a great time," says South.
As counterpoint, he tells a story from earlier in the AIDS epidemic. He was at a forum where gay men were discussing the advantages of preventing HIV. An attendee pointed to "getting old" as one such advantage, though that left many of the guys scratching their heads.