An anti-gay Virginia group has been slapped with a cease and desist letter after taking a gay couple's 2010 engagement photo from the Web and using it in a Colorado campaign mailer.
The Colorado Independent reports that married couple, Brian Edwards and Tom Privitere of New York, and photographer Kristina Hill have hired attorneys from the Southern Poverty Law Center (SPLC) after discovering that a photo of the couple kissing in front of the Brooklyn Bridge was altered to attack a Republican Colorado state senator who voted in favor of civil unions.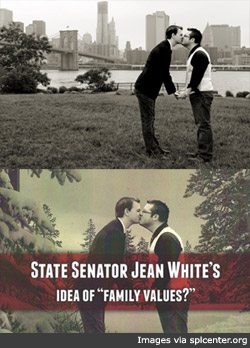 SPLC posted these images of Brian Edwards and Tom Privitere's original image (top) and the altered version
(Images via splcenter.org)
In the altered photo, the New York City skyline behind the kissing couple has been replaced with snow-covered pine trees. "State Senator Jean White's Idea of 'Family Values?"' reads bold text across a red bar. White lost the Republican primary in June to Randy Baumgardner.
Edwards told the SPLC that when he first saw the photo he was "shocked, heartbroken, and livid."
"This photo represented our love and commitment and the many challenges we have overcome in order to share our lives together," Edwards said.
According to the SPLC, which represents those affected by social and racial injustice, the photo was originally posted on a personal blog to share the special moment with friends and family who could not make the wedding. The couple was unaware the photo had landed in Colorado voters' mailboxes until a friend informed them.
Under the SPLC's definition, the Falls Church-based Public Advocate of the United States is a "hate group" because of their repeated attempts to demonize the gay community.
"For years, 'Public Advocate' has spread lies and vitriol about LGBT people to raise funds, impede progress toward greater equality, and to deny LGBT people basic dignity and respect," SPLC Deputy Legal Director Christine P. Sun wrote in the cease and desist letter to Public Advocate President Eugene Delgaudio. Delgaudio also serves on the Loudon Country Board of Supervisors.
In the letter, Sun lists multiple examples of why they consider Public Advocate a hate group, including a fundraising letter that asked readers to "imagine a world where the police allow homosexual adults to rape young boys in the streets."
If Public Advocate does not stop using the photo, Sun told The Colorado Independent that she would pursue further legal action, leaving open the possibility of suing for misappropriation of a copyrighted image and emotional distress.