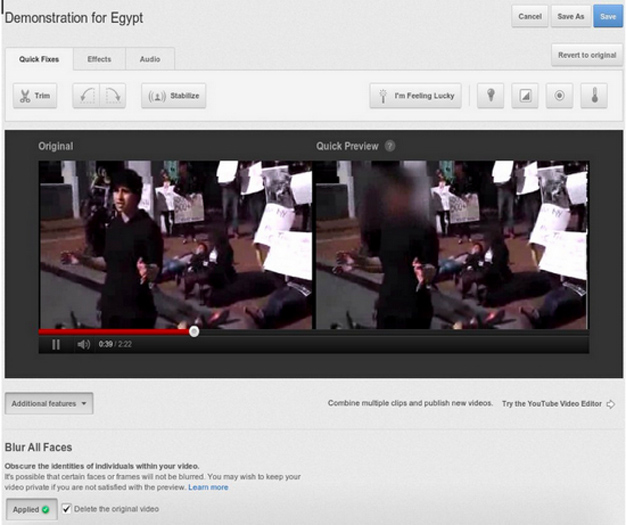 Google is introducing face-blurring technology to its YouTube site. It's largely an effort to protect civil and human rights activists and protesters whose identities could put them at risk in certain inhospitable countries. According to Britain's Guardian,
Google said the move was designed to help protect the identity of protesters who appear on the video-sharing site from being exposed to authorities….
"As citizens continue to play a critical role in supplying news and human rights footage from around the world, YouTube is committed to creating even better tools to help them," said Amanda Conway, policy associate at YouTube, in a blogpost on the site….
YouTube users who upload a video to the site are asked whether they want to apply a "Blur All Faces" option which will obscure all identities in the clip. Once faces have been obscured, YouTube creates two versions of the video, one without the blurring and one with. Users can decide whether to publish either or both of the videos. If they choose to delete the unblurred version, it will be removed permanently from Google's servers….
Conway added: "Because human rights footage, in particular, opens up new risks to the people posting videos and to those filmed, it's important to keep in mind other ways to protect yourself and the people in your videos.
"YouTube is proud to be a destination where people worldwide come to share their stories, including activists. Along with efforts like the Human Rights Channel and Citizentube that curate these voices, we hope that the new technologies we're rolling out will facilitate the sharing of even more stories on our platform."