Playing Ned and Felix, the two lovers at the center of The Normal Heart, Patrick Breen and Luke Macfarlane have come to D.C.'s Arena Stage to lead the first touring production of the show that won three Tony Awards in 2011.
Larry Kramer's 1985 play is a difficult one, dealing with the beginnings of AIDS, the horribly unexpected deaths that came with it, and the slow response from the government – and the gay community. Both Breen and MacFarlane had been in the Broadway performance, although not in the leading roles they play at Arena.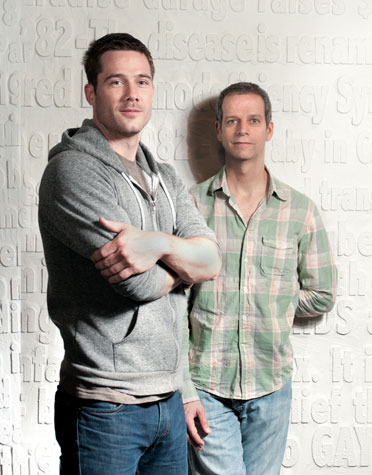 Luke and Patrick: 'The Normal Heart'
(Photo by Todd Franson)
Macfarlane, best known for his role as Scotty on Brothers and Sisters, comes into the theater carrying his bike, sweating and shirtless. Before venturing into the conference room to talk, he puts on a shirt.
A few minutes later, Breen, who starred in the Broadway debut of Geoffrey Nauffts's Next Fall, arrives, carrying a box from Amazon.com. He shares his purchases: Linda Hirshman's Victory: The Triumphant Gay Revolution and Alif the Unseen by graphic novelist G. Willow Wilson that, to his surprise, is not illustrated, but that Breen nonetheless remains excited to read.
Macfarlane, pre-show (and post-workout), is energized, having had a group of D.C. friends attend the previous night's show.
"I spent a majority of the day thinking about my evening last night, so that play never really goes away for the whole day," he says. "And I do this thing to myself where I have to amp myself up into the performance."
Turning to Breen, he adds, "We talked a little bit about how you and I are different. I really feel like I have to get my blood moving, literally, or else I won't have enough energy to do it."
"I don't," Breen counters. "I was at the Phillips Collection with [Patricia Wettig] today from like 12 to 2:30. But around 2:30 or 3, we're both like, 'Gotta get home, and start preparing.' Maybe eat a little something, having a coffee or tea, take a little nap, and made dinner at 5. … Then, I've got to get to the theater.
"Ten minutes before, I just sit in the back of the theater and listen to the audience coming in, and sit in the dark and be quiet and let my mind wander. Then, right before that killer music starts, I think about the names on the projections that I put up there, that I know of people who died of AIDS. So, I think about them right before we go on."
METRO WEEKLY: This is quite a show to perform, night after night.
LUKE MACFARLANE: The way George [C. Wolfe] has directed it, there's no moment of rest in anything. There's really no time where you can just [exhale].
PATRICK BREEN: Because you have to observe, if you're not acting.
MACFARLANE: And the observing takes a real level of focus.
BREEN: Plus, you have to stand.
MACFARLANE: And I stand, for like 15 minutes, in those shoes.
MW: Those shoes?
MACFARLANE: They're just these lovely little Brooks Brother-y type of conservative shoes.
BREEN: They're uncomfortable?
MACFARLANE: They're very uncomfortable.
BREEN: Get insoles or something.
MACFARLANE: I was thinking about asking for it.
BREEN: Get those pillow-y things with the gel in them.
MW: You'll look forward to those moments.
MACFARLANE: I'm just going to stay here.
MW: You talked about the Sunday night performance, and how much this takes out of you. Thinking about what you go through to do a show like this, how do you do it?
BREEN: You have to sleep and eat and don't really talk to anybody. This weekend – we pretty much do five shows in 52 hours, from Friday night at 8 till Sunday night at 9:30, 49-and-a-half hours – so, after Friday night, maybe I'll go out with people, but it has to be really, super-low key, sleep, eat a lot, maybe go run a bit. I isolate, because there's no stamina if you don't, for me, personally. I have to pretty much shut everything else down.
Sunday night, I've noticed, is incredibly difficult to do. In other ways, it can be more raw because you're – it's not unguarded – but, if I had any sort of barriers…. When you get to the Proust speech and you're defending gay culture, and you're railing against people who refuse to see that perhaps their sexual behavior is contributing to the epidemic, you just keep tearing it out. I'm not shaping it, I'm not able to go, "What is the best way to do this?" You just have to kind of spill it out and see what happens. It may be a little sloppier or whatever, but I think it can be more raw and maybe interesting that way, but I think that's the only way I'm left with. I sound like such a fuckin' –
MACFARLANE: No you don't. What I was thinking was, your ideas don't really get you through as much as your emotions.
BREEN: It's less conscious and more unconscious. It's not unconscious, I'm not psychotic. Some might disagree. But all of us have to feel that way. Our scene, the grocery scene, where you just – "Alright, what are we doing? Tear it up."
MW: It's hard to imagine something with the constant emotional depth that this gets into.
MACFARLANE: It's a wonderful freedom to be given the opportunity to sort of say, "Find the deepest place in you, and go there." Obviously, in real life, you can't go there, for whatever reasons. I think that's why Ned, in D.C., is such an interesting character, because this entire city is sort of about, "You can't really go there."
The sort of emotion that we get to have onstage to get to tell the story, it's actually really rewarding, and we don't get to do it in real life. At all, really. So, in that way, it can actually be really wonderful and energy-giving. I actually do feel more energized, sometimes, at the end of the show than I do at the beginning.
BREEN: He's right. The Tuesday through Fridays, when you have one show, I can aim it, hone it like a crazy laser from a crazy superhero movie, and go, "There's the show." The weekend is different. It has to be more raw, more emotional, because I don't have the same stamina.
Larry's play requires that level of intensity, because it doesn't work otherwise. I think if you just read it, it can be kind of a screed, a political screed. When you read Larry's writings on it, he says, "I tried to make Ned as obnoxious as possible."
MW: George C. Wolfe makes Ned more likable. I think the other people being in the scenes, in the background, does change the way you watch it, because Ned can come off as being so isolated. You get this sense that he's maybe not as alone as he thinks he is.
BREEN: The great thing about the play is that Larry, after seeing the Broadway production, maybe it was opening night, said to George, "I didn't know I'd written a love story." What differentiates this production from other past productions is that the love relationship between Felix and Ned is the focus in a way that it wasn't in other productions.
You see the political and the struggle and the history, and then he sneaks in this love story. It's not even snuck in, I don't know how he could have missed it. There's three scenes in the first act, three scenes in the second act, and it ends with a gay marriage and the death of a loved one. How doesn't that break your heart?
MACFARLANE: I'm so curious by that comment that Larry made because I thought, "If it's not a love story, then what the fuck is Felix doing in this play? What else would he have been?"
MW: The sense that I always got was that Felix was almost a way to keep Ned from not being completely off-putting to other people. Seeing the way that this performance is done, I did feel it differently. Taking on this show, knowing that you're taking on this emotional commitment, is that a positive for doing the show?