"When I've been lucky enough for people to tell me that they've experienced many of the same things," says Mary Chapin Carpenter, "you just invariably feel a little less alone. You feel less of a freak, you know?"
Carpenter, you could say, has been lucky a lot – at least in terms of responses to her songwriting. What was once simply a hobby for a shy, lonely teenager blossomed four decades ago, after the hometown girl graduated from Brown University and moved back to D.C. She has since sold more than 13 million records and won five Grammy Awards for work that effectively straddles the country-folk divide, including hit '90s-era singles "Down at the Twist and Shout," "He Thinks He'll Keep Her" and her cover of Lucinda Williams's "Passionate Kisses." She's also written or co-written songs for everyone from Joan Baez to Wynonna Judd to Cyndi Lauper.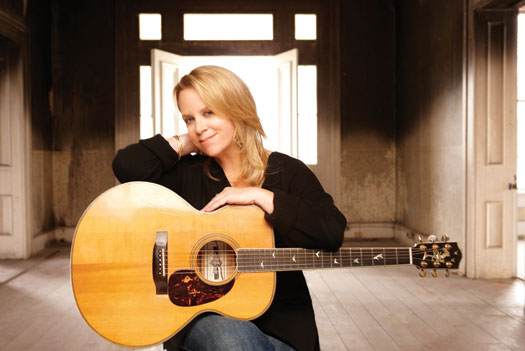 Mary Chapin Carpenter
(Photo by Russ Harrington)
Named after her mother Mary Bowie Robertson and her father Chapin Carpenter, Carpenter says the time she lived in D.C. in the early '80s was instrumental in helping her break out of her shell, gaining confidence in her craft and getting comfortable with an audience.
These days, the singer-songwriter lives with "her peeps" – five dogs and four cats – in Charlottesville, Va. She's also a near-annual draw at the Filene Center at Wolf Trap, which she cites as "one of my most treasured and favorite places." In a few weeks, on Aug. 18, she'll be joined at the large, outdoor Virginia venue by folk legend Loudon Wainwright III (Rufus and Martha's father).
More than anything, people connect to Carpenter because of the emotionally honest and frank way she reflects on her life in lyrics. And her new album — her 12th — just may be the most personal, most powerful, yet. (It also features a rare collaboration, and Carpenter's first with a hero of hers, James Taylor.) Ashes & Roses touches in particular on the dissolution of Carpenter's marriage and the death of her father – both of which occurred in recent years. Carpenter doesn't really flinch at sharing her thoughts and feelings. "To not write about these things would have been odd in a way," she says. "I think I had to excavate these feelings."
Two years ago, the proudly liberal Carpenter, who has long supported LGBT causes, publicly congratulated, via Twitter, Chely Wright on coming out as country's first openly gay star. Wright has since noted Carpenter was the only country star to go public with her support, beyond private messages or conversations.
"It just never in a million years would occur to me to do anything else," Carpenter says. "[It's] what was right." During a 40-minute conversation the day after her new tour launched in Pittsburgh, Carpenter expressed dismay at the lackluster support for Wright, and the slow – but steady – pace of progress for LGBT rights.
"Everybody deserves love and everybody deserves acceptance," she says. "It's that simple."
METRO WEEKLY: I understand Wolf Trap is a special venue to you. Can you explain why?
MARY CHAPIN CARPENTER: Having spent so much of my life as a Washington-area resident, it's just one of the most special places. It's one of the most undeniably beautiful places, the Filene Center. We have this sort of tradition where we finish sound check and it's towards the latter part of the afternoon, and then they open the gates for people who are sitting on the lawn. And if you stand in the back of the stage, in the wings – 'cause it's a dark stage at that point – you see people racing down the hill with their coolers and their blankets and the sort of wonderful yells and screams of people staking out their plots for the night. You just feel this joy and happiness.
MW: I understand you got your start in the music industry by performing in clubs in D.C.
CARPENTER: I did, I absolutely did.