Christian Berle, the deputy executive director at Log Cabin Republicans, is leaving his job at the organization formed to represent gay Republicans to join the campaign of a person seeking to become the first Republican elected to Congress as an out LGBT person.
Although retired Reps. Jim Kolbe (R-Ariz.) and Steve Gunderson (R-Wisc.) came out once in office, Richard Tisei (R-Mass.), running to unseat Rep. John Tierney (D-Mass.), would be the first Republican to be out already when elected to the Congress for the first time.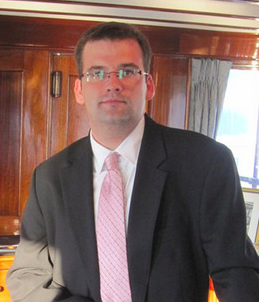 Berle, who has been at LCR since January 2009, tells Metro Weekly that he is excited about the opportunity to serve as Tisei's communications director. "I've had the chance to work with and help Richard in his lieutenant governor's race and for almost the last year for his congressional race," he says. "In my mind, I couldn't find a more natural fit for someone to go on and work for."
He noted that LCR has been heavily involved in promoting Tisei's race, saying, "We had him speak at our 2011 convention in Dallas, where we gave him our Spirit of Lincoln Award, and have been helping him raise money … as he runs to be the first openly gay Republican to be elected to Congress."
Clarke Cooper, the executve director of LCR, praised his outgoing deputy, telling Metro Weekly, "Christian's time at Log Cabin Republicans was marked by a rebirth of the organization, significant political engagement with Republican party organizations and significant LGBT policy gains. Upon my arrival at Log Cabin, it was immediately evident that Christian's political acumen and a shared vision toward bolstering political allies merited promoting him to the deputy director position."
Tico Almeida, now the president of Freedom to Work, used to work as the House Democratic committee counsel responsible for the Employment Non-Discrimination Act, a bill he is still trying to advance in his efforts at Freedom to Work.
Almeida noted Berle's work on that front, telling Metro Weekly, "Christian Berle has played a very important role in building our bi-partisan coalition in support of ENDA, and I am grateful for Christian's efforts in arranging Capitol Hill meetings with Republicans at which Freedom to Work and Log Cabin Republicans have advocated together in favor of moving ENDA forward now."
Of his accomplishments, Berle pointed to advancements both in the Republican Party and among the LGBT organizations.
"In the three-and-a-half years I've been on staff, our releationship with the party is night and day in a better position. The RNC often asks how they can help us do our job as an ancillary member of the Republican Party," he says. "We have strong relationships with other LGBT organizations that we didn't have when I started."
Of his next role, Cooper adds, "His joining Richard Tisei's Congressional campaign is a testament to Christian's abilities and to the progress he helped achieve for Log Cabin Republicans."
The Victory Fund, a bipartisan organization that works to elect out LGBT politicians, has endorsed Tisei's run. Denis Dison, the Victory Fund's vice president for communications, tells Metro Weekly, "Christian brings a great deal of expertise to this important campaign. He understands the need for out Republican voices on Capitol Hill, and he'll be an effective and passionate advocate for Richard and his team."
To that end, Berle says, "Having Richard stand up in conference and say, 'Repeal of DOMA matters to me because I'd like to get married to my partner" … as each and every one of [the other members] is able to do is important. He will be able to talk about employment nondiscrimination, something he led in the state legislature during his 26-year tenure there."