July began with the worst possible news for family and friends of Petworth resident Tim Lipka, 25.
"It was a shock," says Lipka's close friend and fellow player on the DC Gay Flag Football League (DCGFFL), Jennifer "J-PO" Pollom, of Lipka's death. "Saturday (June 30), he went to the hospital because he wasn't feeling good. Our buddy picked him up Saturday and said he was completely fine, he was joking around. Then Sunday (July 1), his organs failed. He was on the phone with the ambulance, went outside to wait for them, passed out and just never came back."
According to the Charlotte Observer obituary submitted by the Matthews, N.C., native's family, the cause of death was a heart attack.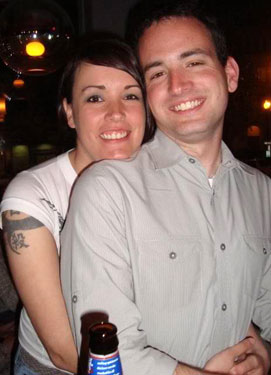 Pollum and Lipka, April 20, 2011
(Photo courtesy Pollum)
"None of us knew that he had a heart problem at all," Pollom continues. "He was on blood thinners for a heart condition. It was a shock. This is the first time I've had someone that close to me die. This is the first person that was crazy close to me."
Ryan Whitlow, another close friend and fellow football player, had July 1 plans with Lipka to attend AT&T National golf tourney at Congressional Country Club in Bethesda.
"He texted me Saturday night and said he wasn't feeling well, thought it was the heat," Whitlow shares. "Sunday morning, I got 'the phone call.' I don't think it's hit me yet that he's gone."
Whitlow is still trying to comprehend the sudden loss, even after attending Lipka's July 7 memorial service in North Carolina. Whitlow carried a letter from Metropolitan Police Chief Cathy Lanier to Lipka's family, which he says praised Lipka for his community involvements, including conversations with Lanier, whom Lipka admired, and working on a re-election campaign for Councilember Jack Evans (D-Ward 2). Whitlow spotted flowers from Evans at the funeral.
"He wanted to get involved," Whitlow says of Lipka. "He cared about issues affecting D.C. He just really thrived here. This was exactly where he wanted to be. He loved it here."
Adds Ryan Dillon, another close friend and flag footballer, "The important thing to know is that he was soft-spoken, always smiling. I know that Tim often engaged in conversations with folks of a political nature. While he may have disagreed on policy, once the conversation was over, you were still friends. He enjoyed the discussions and respected people for what they believed in. He had respect for everybody."
Whitlow says that sense of engagement had taken Lipka to his latest job, working in administration at the Cesar Chavez Public Charter Schools for Public Policy.
"He had just started," says Whitlow. "He was really excited about the opportunity. He was excited to make an impact in D.C."
Moving to D.C. after earning his bachelor's degree from North Carolina State University, Lipka recently began pursuit of a public administration master's degree from the University of Southern California. While that dream has been cut short, Pollom says a part of Lipka will live on with the DCGFFL at Nellie's Sports Bar, where Lipka recently threw a "coming out party" to mark coming out to his parents a few months ago.
"I have his jersey from when he was on my team," says Pollom, recalling that the two met during their first season with the football league, playing on the Victorious Secrets team together. "We're going to frame it, do a little picture underneath it and put it up at Nellie's and kind of retire it so it's always there."
That remembrance is tentatively set for Thursday, Aug. 30, at 7:30 p.m., at Nellie's, 900 U St. NW.