In 2008, during the XVII International AIDS Conference, held in Mexico City, one speaker helped set the tone. Ron MacInnis, a D.C. local, who was working as the director of policy and programs at the International AIDS Society (IAS), organizer of this global conference series, told an audience, "It's blatantly discriminatory to single out people with HIV. It's stupid and ridiculous. These restrictions are really impeding our ability to control HIV and AIDS."
Just what was MacInnis calling stupid and ridiculous? A decades-old ban that prevented HIV-positive people from legally entering the U.S. without a special waiver. At about the same time, the George W. Bush administration had begun work to remove the ban, finally removed by President Obama in 2010. With the ban on its way out, the IAS announced in 2009 that it would be returning to the U.S. – for the first time since 1990 – setting the stage for the XIX International AIDS Conference, aka AIDS 2012, to make a D.C return (held here in 1987) July 22 to 27, under the theme "Turning the Tide Together."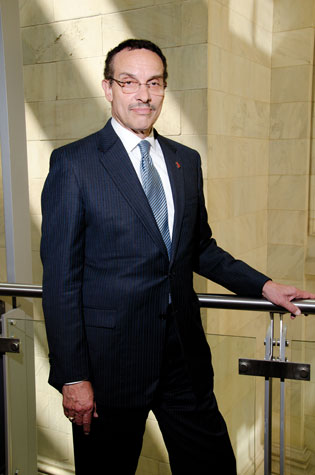 Mayor Vincent Gray
(Photo by Julian Vankim)
Organizers are expecting about 20,000 delegates from around the globe to convene on the Walter E. Washington Convention Center. "It is a chance to assess where we are, evaluate recent scientific developments and lessons learnt, and collectively chart a course forward," reads the AIDS 2012 overview. While that might sound pretty straightforward, this is not evaluating and strategizing about building a new rocket or some similarly esoteric endeavor. It will be heavy on science, but it will be the science of saving lives. It will be the science learned in a pandemic fight that has left millions dead and affects millions more.
No one knows that better than Washingtonians. Through the years, District residents – with the nation's highest infection rates – could witness the virus's lethality, though the gay community, through the African-American community, and beyond. Washingtonians had front-row seats for protests and die-ins and the late Sen. Jesse Helms's house wrapped in a giant condom.
Locals also were on the front lines of progress.
"The annual report just came out," says Pat Hawkins, who holds a doctorate degree in counseling and counselor education, whose work dates back to the very beginning of the pandemic. The report she cites is the 2011 District of Columbia HIV/AIDS, Hepatitis, STD and TB Epidemiology Annual Report. "Looking at that data, it's just like day and night in terms of what we've done. Cutting back on late testers, getting people into care sooner."
Hawkins also sits on D.C. Mayor Vincent Gray's Host Committee for the XIX International AIDS Conference.
"I give him a tremendous amount of credit," Hawkins says of Gray with regard to the fight against HIV/AIDS, both of them entering that fight at roughly the same time. "He has been the first mayor we've had who's actually spent part of his career working on HIV/AIDS. He was responsible for the AIDS initiatives when he was director of the Department of Human Services. I think he has always kept that sense of urgency, that sense of commitment about AIDS."
Ahead of AIDS 2012, earlier in July Mayor Gray took some time to talk about his experience with the HIV/AIDS epidemic in the District. High-level resignations entered the conversation, though no discussion of calls for his own – that particular controversy, involving workers in his 2010 mayoral campaign, was still a week away. As AIDS 2012 opens, it's a week behind him. Further back is his time as the director of the city's Department of Human Services, as the executive director of the faith-based Covenant House shelter for homeless youth, and as a City Council member and chairman. For now, all eyes are looking forward to the XIX International AIDS Conference.
METRO WEEKLY: Personally, professionally, how have you seen the HIV/AIDS epidemic evolve?
MAYOR VINCENT GRAY: Given the number of years that I've been involved with this issue, we've seen it evolve from a disorganized approach, almost a panic type of approach, to one that's much more organized, one that has much more focus not only on treatment, but also on improving the quality of life for HIV-positive people, for people with full-blown AIDS. And really organizing the government's resources better than they have been in the past. When I was the director of [the D.C. Department of Human Services], we worked with the Commission on Public Health to create the first five-year strategic plan to address this issue.