"I think if you're English, and especially if you're from London, and you're an electronic musician, then [the Pet Shop Boys are] definitely going to have an influence and be an inspiration," says Hot Chip's Felix Martin.
In fact, the British electronic-pop band Hot Chip sounds like a quirkier, looser Pet Shop Boys.
A key difference between the two bands, though, is image.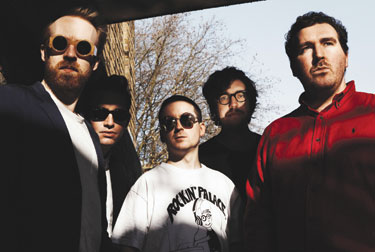 Hot Chip
"The amount of clothes and wardrobe that they put into their live show is beyond belief," says Martin. But Hot Chip? "We don't really have an image." In fact, if you know anything about Hot Chip, it's probably related to the music (including wry dance hits "Over and Over" and "Ready for the Floor"), not the band or its members.
Soon after Alexis Taylor and Joe Goddard formed the group, Martin signed on as the band's key electronic programmer, leaving a job at the respected British electronic label Warp Records. These days, the band features seven members, including two drummers.
While Taylor remains the group's primary songwriter, Martin notes, "We all kind of chip in and add to the music." Hot Chip functions much like a collective, with bandmates generally taking turns playing instruments and synthesizers, as well as vocals – with one notable exception. "I'm actually the only member of the band who doesn't sing," says Martin.
The band is touring in support of the joyous In Our Heads, its fifth album and first to crack Billboard's main album chart. The stop at Merriweather Post Pavilion this weekend also features buzzed-about Brooklyn noise-pop duo Sleigh Bells, plus a DJ set from New York's James Murphy, whose former band LCD Soundsystem included longstanding Hot Chip guitarist Al Doyle.
Just don't expect a Pet Shop Boys-style production at Merriweather. "We haven't come quite as far as that many costume changes yet," teases Martin. '
Hot Chip performs with Sleigh Bells, plus a DJ set by James Murphy, on Sunday, July 22. Doors at 6 p.m. Merriweather Post Pavilion, 10475 Little Patuxent Parkway, Columbia, Md. Tickets are $4535 to $45. Call 800-551-SEAT or visit merriweathermusic.com.