Hear the one about Frank Ocean?
No, it's not a joke – though at first blush it seems like one. Or at least a publicity hoax.
Think about it: Based on Ocean's experience, all a budding R&B/hip-hop artist has to do to stir the media, not to mention generate hosannas from hip-hop royalty – among others, Russell Simmons and Jamie Foxx – is to publicly admit that, one summer when he was still a teenager, he fell for another boy.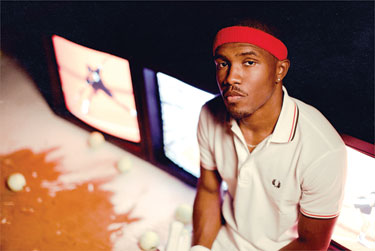 Frank Ocean
To paraphrase the immortal words of that pop sage Katy Perry: "I kissed a boy and I liked it… Ain't no big deal, it's innocent."
And just like that, a music star is born – Ocean generated even more publicity and attention than Perry did before him, with her breakout single flirting with same-sex desire. So much attention, Ocean's label released his debut album channel ORANGE a week early, and strong sales are proving the move a smart one. That's just how you do it in the 21st century.
In the letter Ocean posted to Tumblr, Ocean doesn't actually say if he ever kissed this boy, who had a girlfriend. He also doesn't use any words to describe his sexual orientation or the relationship, which ended after Ocean revealed his desire to the boy that summer when both were 19.
But the more you read and reflect on the incredibly poetic and touching letter, and the more you listen to the often poetic and touching channel ORANGE, the less you think it was all just marketing. Or, at the very least, you sense Ocean's sincerity.
"It's a bad religion, to be in love with someone, who could never love you," Ocean sings on the powerful ballad "Bad Religion." "I could never make him love me, never make him love me, no, no."
Ocean, a New Orleans native – born Christopher Breaux – who moved to Los Angeles after Hurricane Katrina, has been a bit player in R&B for a few years now, writing songs for John Legend, Brandy, even Justin Bieber, as well as appearing in the hip-hop collective Odd Future. But he obviously has things only he can say as a solo artist. And we're all the better for it, given his dazzling elastic voice, which he uses both to rap – sounding a lot like Drake – and to sing, occasionally in a strong but vulnerable falsetto.
As expressed on channel ORANGE, those things he has to say are all over the place. Lyrically and musically, Ocean is a wanderer, imagining all kinds of emotions, with all kinds of people, in all kinds of places, in all kinds of genres.
He channels Prince in his omnivorous, unbounded approach to genre – with minimal electronica and journeying psychedelic rock just as easily poured into a base of R&B as pure pop or hip-hop. He often sounds like a livelier, less sex-obsessed R Kelly.
One minute, as on "Super Rich Kids," he conveys the longing, languid life in a sunny suburbia where there's nothing much to do but take drugs to escape. Another, as on "Crack Rock," he's singing of someone older, all alone with a drug addiction in the funky gutter. "You hit them stones and broke your home," he sings.
The album starts off with the simmering, string-laced ballad "Thinkin Bout You," as Ocean reflects on his first relationship, without specifying the gender. "I remember, how could I forget?" he sings. "It won't ever get old, not in my soul."
As the album goes on, Ocean remains a bit cryptic about his same-sex desire or longing, with only occasional use of male terms or pronouns. He's far more explicit about his interest in the opposite sex – yet even here, he expresses doubt. "Double D, big full breasts on my baby," he sings on the choppy "Lost," which talks about having it all but still looking for more.
Frank Ocean
channel ORANGE
DefJam
$11.99




Appearing Monday, July 23, at 9:30 Club
That track comes just after the set's stunning 10-minute centerpiece "Pyramids." Ocean concocts a Prince-worthy multi-song suite, serving up a simpering French house-tipped soul jam to start, with a story set in ancient Egypt. Eventually, the song electronically distorts and downshifts to become a funky, forlorn ballad and a story from a faux-glamorous modern-day locale, likely Las Vegas. The song's stories and threads are connected by two very different Cleopatras, one the Egyptian queen, the other a stripper in Ocean's employ. "She's working at the Pyramid tonight," he sings in a resigned manner, as if he doesn't quite like what he's doing, but he's going with it anyway.
Count me among the growing legion looking forward to where Ocean goes with it next.
DOWNLOAD THESE: "Pyramids," "Bad Religion"