I've been a professional homosexual since 1993. I don't mean that I was an escort, although that probably would have paid better than my job at Whitman-Walker making sure that escorts and other sex workers got condoms. I just mean that over the course of the past two decades I've worked in either HIV prevention or gay media, or some combination of the two.
Given that I've spent so much time as a columnist, reporter and editor, I've also ended up with a high profile. My nephew keeps declaring, "You're famous!", even though I keep explaining I'm actually just "reasonably well-known within my own community" because I don't want to deal with any unrealistic expectations for future backstage passes. But it's fair enough to say that I'm a public figure who's been out of the closet for a very long time.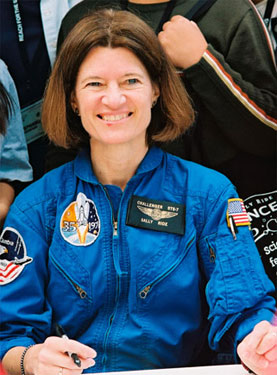 Sally Ride
(Photo via sallyridescience.com)
While I define my coming out moment as early December 1987 — the night I was outed in my frat — it's much more complicated than that. I kept that news from my parents for months afterwards. I was out on campus, like it or not, but it wasn't something I included in my resume when I launched job search. While I was openly gay in my personal and family life during my first two years in Washington, I only explicitly came out to a handful of people at work, not that it was any big secret to anyone paying attention because I never took active steps to hide it.
Now, following the posthumous coming out of pioneering astronaut Sally Ride, who's 27-year relationship with her female partner was revealed in her obituary after her death at age 61, we're reopening the issue of what it means to come out. I've generally used my own age as a dividing line for my expectations — I'm on the older end of Generation X, growing up in a post-Stonewall world where AIDS had made homosexuality impossible for society to ignore. It was far easier for me to come out than it was for the generations before me, just as it's far easier today for young lesbians, gays and bisexuals than it was for me (although regrettably that progress hasn't tracked for transgenders).
There has been criticism of Ride for not being public with her orientation, even as she worked on issues close to her heart, such as promoting science education for girls. To be honest, the first thing I thought was, "Why am I just hearing this now?" Because defeating the closet is the most basic and important tool we have for securing equality, we have high expectations for gay people in public places.
But, by all accounts I've seen, Ride was open about her relationship with family and friends, and no secret for those paying attention to a life she kept fairly private (her decision not to exploit licensing opportunities based on her fame speaks to a sincerity in that desire). I wonder if, had I chosen to pursue another passion of mine — say, childhood literacy — rather than my pro homo route, if I might have ended up making similar decisions, living my life openly but not mixing my private life with my public work.
Looking from Sally Ride to Anderson Cooper to Frank Ocean, recent coming out stories from three generations, how do we judge when someone is out enough? I know my path isn't for everyone. I think we have to borrow a rule from our doctors: First, do no harm. After that, you're on your own.