More than 25 years after becoming the first gay man to voluntarily come out as gay while serving in Congress, and just months away from retirement, Massachusetts Democratic Rep. Barney Frank once again made history July 7 when he wed his longtime partner, Jim Ready.
At the Boston Marriott Newton on the banks of the Charles River, Frank, 72, and Ready, 42, exchanged vows during a short and simple ceremony lasting less than five minutes (at Frank's request).
Many of Frank's Washington colleagues attended the celebration, including Sen. John Kerry (D-Mass.), Rep. Steny Hoyer (D-Md.) and House Minority Leader Nancy Pelosi (D-Calif.).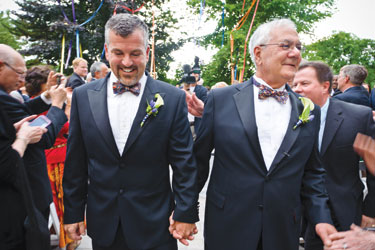 Jim Ready & Barney Frank
(Photo by Fotique)
According to The New York Times, Frank's sister, Ann Lewis, walked Frank down the aisle as he choked back tears. Dressed in black tuxedos with matching paisley bowties, the two grooms exchanged dark wedding bands with black diamonds in front of a long list of VIPs.
Massachusetts Gov. Deval Patrick (D) officiated the ceremony, including nods to Frank's affinity for politics and Ready's love of surfing.
"Barney and Jim," Patrick began, according to a transcript from Frank's office, "do you promise to love each other and be each other's best friend, in sickness and in health, in Congress or in retirement, whether the surf is up or the surf's flat, for richer or for poorer, under the Democrats or the Republicans, whether the slopes are powdery or icy, whether the book reviews are good or bad, for better or for worse, on MSNBC or on Fox, for as long as you both shall live?"
The celebration continued into the night with dinner and dancing, where Frank and Ready were hoisted above the crowd in chairs during the hora.
Among the saltwater taffy from Ready's home state of Maine and Necco Wafers from Frank's congressional district, guests' gift bags contained campaign buttons, reports The Washington Post. "Barney and Jim for Congress," they read. Stamped across "Congress" was the word "Forever."
Frank and Ready first met during a political fundraiser in 2005. Ready was in his mid-30s at the time and dating a former colleague of Frank's named Robert Palmer.
"I told him I had a crush on him for 20 years," Ready told The New York Times of his first meeting with Frank.
Frank was a ranking Democrat and well known for choosing to come out in 1987, a politically risky decision.
According to Ready, their meeting wasn't accidental. Palmer's health was failing, and he was hoping Ready would meet someone to take care of him after he was gone.
When Palmer did die, Frank flew to Maine to console a devastated Ready. As their friendship grew stronger it became something more. Now, seven years after meeting, the two men are one of the most historic gay couples to legally marry.
Not surprisingly, congratulations have been pouring in since they exchanged their vows.
Evan Wolfson, founder and president of Freedom to Marry, told Metro Weekly he was thrilled for the couple and that their marriage was a significant event in the broader fight for marriage equality.
"Being able to wear that ring, claim the words husband or wife, talk about your wedding — it is taking on that powerful vocabulary that touches hearts and really gets people to see anew," Wolfson said.
Wolfson, who married his husband in October 2011, said Frank's record of accomplishment on public policy is immense, but that to retire after this historic event is icing on the cake.
"I think it's great that he's adding this personal note to the persuasive effect of his record," Wolfson said.
Speaking to The New York Times, Pelosi said it was appropriate for the wedding to occur so close the Fourth of July. "It's about expanding freedom," she said. "This opportunity was a long time coming."
With their honeymoon not happening until August, it didn't take long for Frank to get back to what he does best.
On Tuesday, July 10, he was back in Washington, making an appearance on Current TV's Full Court Press. Interviewed by Bill Press, Frank said the climate in the country was changing toward marriage equality, and for the better.
"Clearly what works is reality beats ignorance, and this is a prejudice that is literally based on ignorance," Frank said, adding that opposition to marriage equality was rooted in lack of exposure to gay couples. Frank said that lack of exposure would change for some of his more conservative colleagues when he returns to the halls of Congress as a married man.