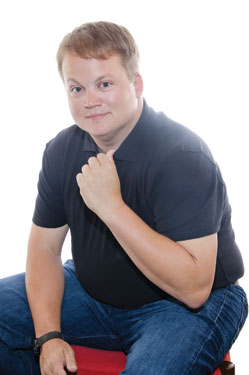 Christopher Dyer
(Photo by Julian Vankim)
After '99 I was involved with Capital Pride, got to know Whitman-Walker.
In 2002, I got hired to work at the American Lung Association. You can't move in the ALA without dealing with public health. I met a ton of MPHs – master's of public health. I saw some of the stuff around smoking, knew the latest and greatest in smoking prevention.
Around 2003, I [joined] the Crystal Meth Working Group. We did the first crystal meth-prevention campaign with Ed Bailey and others, "Crystal Meth Sucks." With crystal meth, being on the Mayor's [LGBT] Advisory Committee under [Mayor] Tony Williams, I think I actually tried to help develop a survey assessing the capacity of the HIV groups and how they were spending money.
Everything sort of changed in 2007 when I started in the mayor's office [as director of Mayor Adrian Fenty's Office of GLBT Affairs]. We were kind of destroying ourselves. There were some prominent members of the community doing this to themselves, also some of the people who'd been involved in health work, struggling with substance abuse.
In the Mayor's Office of GLBT Affairs, I paid attention to HIV, but it wasn't a strong focus, because we have an HIV/AIDS Administration. For the most part, they were doing a reasonably good job, I thought. But every year, the surveillance report would come out and for two or three weeks afterward I'd kind of flip out a little, get very concerned, very worried. One year, Clarence [Fluker, program manager, Office of GLBT Affairs] kind of pulled me aside and said, "Why don't we do something about this?" And so we started convening meetings with all the HIV providers to start figuring out some LGBT stuff. And then the clock ran out on me, Fenty got knocked out of office.
MW: And now you're a consultant?
DYER: I'm a consultant.
MW: How much of that is health-related?
DYER: Right now, all of it. I'm consulting primarily with Whitman-Walker Health on a variety of stuff, including the "Return to Lisner" event that's happening on the 24th. There's some interesting stuff going on at Whitman-Walker. We've had some "community conversations" on issues. We did a "Five for Pride" campaign during Pride season to sort of encourage improving self-esteem.
And I've been, as a volunteer, helping out with the Gay Men's Health Summit.
MW: What's your role, exactly?
DYER: Well, we don't have titles, but I'm essentially the facilitator of the programming committee. I basically did all the logistics of setting up meeting, organizing the review panels, getting the information out, selecting some of the programs and being in charge of all the speakers and all the logistical details of getting the program together.