Rep. Barney Frank (D-Mass.) and Jim Ready may still be celebrating their new lives as a married couple after exchanging wedding vows July 7, but that hasn't stopped marriage-equality opponents from declaring their nuptials a farce.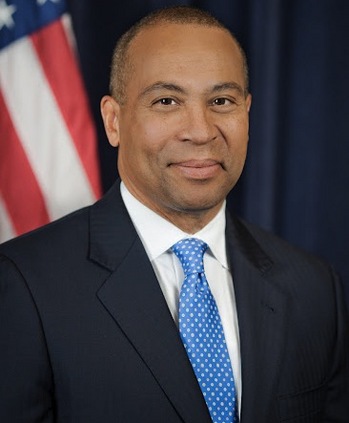 In an opinion column published by The Washington Times, tea party activist Doug Mainwaring called the wedding "a mockery, a parody, a staggering caricature of the most fundamental and towering of American Institutions."
Frank made history last weekend in Massachusetts when he became the first congressman to legally wed a partner of the same sex, more than 25 years after becoming the first (voluntarily) out gay congressman.
Mainwaring, who is reportedly gay and a co-founder of the National Capital Tea Party Patriots, took particular issue with the vows administered by Massachusetts Gov. Deval Patrick (D).
According the Frank's office, Patrick said the following before Frank and Ready exchanged rings:
Do you promise to love each other and be each other's best friend,
In sickness and in health,
In Congress or in retirement,
Whether the surf is up or the surf's flat,
For richer or for poorer,
Under the Democrats or the Republicans,
Whether the slopes are powdery or icy,
Whether the book reviews are good or bad,
For better or for worse,
On MSNBC or on Fox,
For as long as you both shall live.
For those familiar with Frank, the vows embodied his wry wit and sense of humor. For Mainwaring, they were not just an affront to all that marriage stands for, but a "gotcha" moment for the world to see:
The politicos and pundits who aggressively promote same-sex marriage, many of whom were present at this event, have revealed something about themselves they perhaps didn't intend to show: Same-sex marriage is a joke to them. It's nothing more than political opportunism, straight from the liberal Democrats' timeworn, dog-eared playbook – an attempt to corral and cordon off yet another minority group for the Democrats, adding yet another square to their patchwork AstroTurf quilt.
This isn't the first time Mainwaring has made waves for his views on marriage equality. In January he testified against same-sex marriage legislation in Maryland and has alleged that liberal elites, not the gay community, are behind the push for marriage equality so they can create a "utopia" in which people are dependent on government rather than family.
Reached for comment, Patrick's office did not address Mainwaring's assertions, stating simply that Patrick strongly believes "expanding marriage rights is consistent with our American values of fairness and equality." Frank's office could not be reached for comment.