If you set foot in Nellie's Sports Bar over the past four years, you knew David Chung.
He may not have been the face of Nellie's, exactly, but Chung, a popular bartender and assistant manager who died last weekend, was certainly its smile.
"When David smiled, he opened his heart and spirit to you and you experienced all that was good within him," says his friend Jeff Winans. "He tried to lighten life for all of us."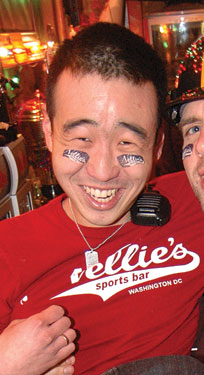 Chung at the 2011 Nellie's Superbowl Party
(Photo by Ward Morrison)
When contacted by Metro Weekly, D.C.'s Chief Medical Examiner's office said it couldn't release an official cause of death as Chung's family was still making funeral arrangements for a service to be held the morning of Thursday, July 12, at Metropolitan Wesley A.M.E. Church, 1712 N. Capitol NW. Meanwhile, Chung's close friend, Zachary Wine, is helping organize a wake the afternoon of Sunday, July 15, at Stead Park adjacent JR.'s.
In a phone conversation with Metro Weekly, Wine, the former general manager at Town Danceboutique who moved to Wyoming in May, hopes people focus on the joy that Chung brought into their lives. "I was in D.C. nightlife for six years," he says, "and I met an astounding amount of people during that time. And David was one of the very, very few people that was genuine about everything. He touched the lives of every single person in his life."
Chung, who turned 26 less than a week before he died, grew up in Paramus, N.J., where his family still lives. On his Facebook page, Chung listed John Lee as his brother. "We were the closest thing to being brothers," Lee clarifies for Metro Weekly. The Chungs and the Lees went to the same Methodist church together. The two boys became close friends during the first grade. Lee says Chung was as gregarious as a child as he was as an adult. "He had a lot of energy," says Lee, "he had a lot of joy, genuinely a big-hearted person." Lee visited Chung in D.C. generally once a year since Chung moved to the area to go to George Washington University. "More than anything, I was so happy for him," he says, "because I felt like the community there was really warm and they loved him. And I was so happy to see him in that light."
Since his death early Sunday, July 8, Chung's Facebook page, linked to more than 1,200 friends, has become a memorial. Doug Schantz, owner of Nellie's, has also created a makeshift memorial at the bar, with a bouquet of roses next to a photo of Chung wearing a sleeveless Nellie's T-shirt – and of course his signature smile.
"We have a very tight-knit, extended family at Nellie's," says Schantz. "It's more so than ever evident by what's happened. Everybody sort of wants to be together rather than face this on their own, which is a compliment to David." In fact, Nellie's staff often socializes together – and Chung seems to have been a main connecting thread. The bar has retained a grief counselor for its staff, says Schantz, who was still in a state of shock when reached a few days after Chung's death. "It's not reality to me," he says.
Chung seemed to act something like an angel to any number of friends and acquaintances. His roommate, Cory Dykstra, a bartender at Town, says "[David] helped me become happy with the person I am. David brought much joy and happiness into the lives of the people around him. I will always remember him for the love he had to offer to the world."
David Perruzza, manager of JR.'s, compared Chung to a Fraggle Rock character, "always smiling, hopping up and down."
"You're one of the best people I have ever met," he wrote on Chung's Facebook page. "I have never heard you mutter one bad word about anyone. You, sir, are a fine example of everything we should all be."
[UPDATE, FRIDAY, JULY 13: Nellie's announced today that the memorial for David Chung on Sunday, July 15, will be held from noon to 2 p.m. at Stead Park, behind JR.'s. The entrance to Stead Park is on the 1600 block of P St. NW. JR.'s is located at 1519 17th St. NW. JR.'s will open at noon Sunday. Nellie's will host a second memorial gathering Thursday, July 19, at 5 p.m. Nellie's Sports Bar is located at 900 U St. NW.]