"To me, it's one of the finest series of American paintings made during the 20th century," says the Corcoran's Philip Brookman, referring to the late Richard Diebenkorn's "Ocean Park Series." Diebenkorn started the series when he moved from the San Francisco Bay area to Los Angeles in the late 1960s, and switched his style from figurative and landscape paintings to more abstract work. The switch also went against the pop-art and conceptual art grains at the time.
But over time the work has become "extremely influential," according to Brookman, the Corcoran Gallery of Art's chief curator and head of research. The series, now on display in a retrospective at the museum, "really moved abstraction into a whole new direction."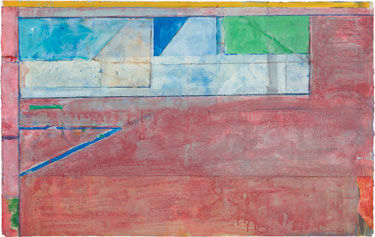 Richard Diebenkorn, Untitled #26, 1984. Gouache, acrylic, and crayon on joined paper, 24 x 38 inches. (61 x 96.5 cm) Private Collection. © The Richard Diebenkorn Foundation.
Brookman actually got to know the artist while studying art history at the University of California, Santa Cruz. "I had this idea that I could learn more about art by working directly with artists than I could by sitting in a classroom looking at pictures," he says. Brookman proceeded to organize his first exhibition as part of a class assignment, one focused on Diebenkorn drawings.
Despite his personal knowledge of the subject matter, Brookman didn't actually organize the exhibit at the Corcoran, its only East Coast home and one of only three venues across the country. But once Sarah Bancroft of California's Orange County Museum of Art conceived of the show, the Corcoran jumped on board. "The Corcoran has a long history with Diebenkorn," says Brookman, citing in particular the first-ever retrospective of his work, organized by the museum in 1977.
In fact, the Corcoran just may be the perfect venue for the exhibit. Brookman cites praise to that effect from Diebenkorn's widow Phyllis when she attended the opening. The museum's physical space is perfectly proportioned for Diebenkorn's large abstract paintings, which are further enhanced through the natural light emanating from the second-floor's skylights.
Says Brookman: "It's really a unique opportunity to see this important work in a way that it really was made to be seen." '
Richard Diebenkorn: The Ocean Park Series runs through Sept. 23. Corcoran Gallery of Art, 500 17th St. NW. Admission is $10, or free on Saturdays through Labor Day. Call 202-639-1700 or visit corcoran.org.