myVidster lost control of its primary .com domain this past weekend according to the owner's Twitter feed:
"The myvidster domain has been hijacked and I got an email from the thief trying to sell it back to me. Working with GoDaddy to get it back."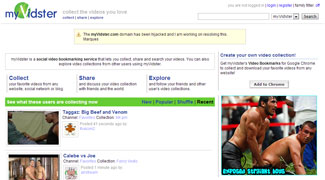 Currently, visitors to the .com domain are being redirected to unrelated online advertisments. myVidster suggests an alternate solution for users — use their still-working .net address instead.
The popular video sharing site is known as an aggregator for all types of embedded videos. But the majority of the content seems to be collected by gay adults, often for those who admire black men. The bulk of the adult content is freely accessible after a visitor clicks a button to verify their age.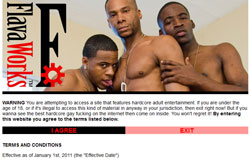 Earlier this month, myVidster made headlines when it won a court case against Flava Works, Inc., a company which specializes in videos of black men having sex. That company had accused myVidster of infringing on its copyright material. 
myVidster does not appear to host video files itself. Rather, it allows registered users to save HTML/Javascript code that embeds playback of video content. Essentially, links are created to content which is hosted on remote, third-party servers. Much of the video in question seems to be of copyrighted material, though.
The 7th Circuit Court of Appeals wrote, in a sometimes humorous ruling, that myVidster's operating model did not create a situation in which it could be held responsible for the illegally copied content:
"myVidster knows that some of the videos bookmarked on its site infringe copyright, but that doesn't make it a facilitator of copying. Although visitors who view those videos are viewing infringing material, they are paying nothing for it and therefore not encouraging infringement, at least in a material sense, unless perhaps the infringer gets ad revenue every time someone plays the video that he posted on the Internet—but there is no evidence of that…."

"The brief describes myVidster as being at worst a 'tertiary' infringer, beyond the reach of copyright law because the law doesn't recognize tertiary copyright infringement. But the law doesn't recognize 'secondary infringement' either….The direct infringers in this case are the uploaders; myVidster is neither a direct nor a contributory infringer—at least of Flava's exclusive right to copy and distribute copies of its copyrighted videos…."

"myVidster is not providing a market for pirated works, because infringers who transmit copyrighted works to myVidster's visitors are not selling them…."
The larger significance of Flava Works, Inc. v Gunter, was emphasized when Google and Facebook joined in an "amicus curiae brief friendly to myVidster."
No connection has been made evident between the case and the domain name. The WhoIs record for myVidster's .com domain indicates that an update was made on August 26, 2012, and it is now in possession of someone named Tsiukau Mikalai in Amsterdam, NL. The .net record continues to be in posession of Marques Gunter, of Indianapolis, IN.