Looking at the example of former mayors and former or sitting D.C. councilmembers, getting elected to a local Advisory Neighborhood Commission (ANC) can serve as the starting point in building up a political base from which to run for higher office.
If that's the case for the current crop of ANC candidates, then D.C. is due for a number of LGBT political up-and-comers.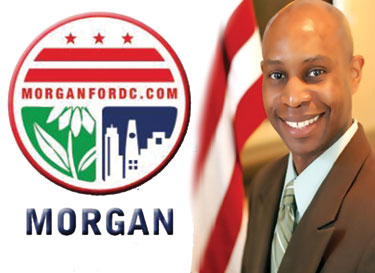 Marc Morgan
By rough estimate, at least 30 of the candidates running for election or re-election for one of 296 commissioner slots throughout the city identify as LGBT. With the city's growing population and a number of newly created ANCs, some people previously on the political sidelines are deciding to jump into the fray.
While almost all of these newer candidates running for ANC insist they are running to help their communities, one can't help but question whether a few have loftier political ambitions.
"That is exactly what this is," says ANC 1B01 candidate Marc Morgan, in response to a question about whether his candidacy and others' may be part of a larger effort to build a bench of out LGBT officeholders. Morgan says that about a year ago, he sat down with several representatives from organizations such as the Human Rights Campaign, the Victory Fund and the local Democratic and Republican parties to discuss recruiting younger LGBT candidates who might be interested in serving their communities in an elected position.
"The conventional thinking is that, at some point, [gay D.C. City Councilmember] Jim Graham (D-Ward 1) will retire," Morgan says. "At some point in time, [gay D.C. City Councilmember] David Catania (I-At Large) will move on to something else. So we're going to be lacking that representation on the D.C. Council, and we definitely need that, depending on what happens with the next administration, both federally and locally."
Because each ANC single-member district contains only 2,000 residents, and because ANCs deal with services related to quality-of-life concerns, ranging from trash pickup to zoning ordinances, they provide candidates who manage to get elected the opportunity to dive into the gritty details of District operations.
"You have the ability with the ANC to identify and recruit younger LGBT individuals who are already involved in their community, or are looking to become more active, put them through the process of trying to run an active grassroots campaign, and then they have two years, four years, to identify themselves and establish some success under their name," Morgan says.
Morgan, a former candidate for the Ward 1 Council seat who is running unopposed in November and will represent the Ledroit Park neighborhood on ANC 1B, says he is primarily running to address local neighborhood issues, not to further his political career.
Morgan particularly wants to focus on crime, residential parking, and flooding due to poor drainage, especially prevalent in Ledroit Park. But he says he's certain that several other LGBT candidates are running with the intent of using an ANC seat as a springboard to higher office.
Jeremy Leffler, another out gay candidate running unopposed – for ANC 1B02 in the eastern part of the U Street corridor – hopes to gain a better understanding of District government and to make the city more business-friendly.
From Leffler's view, crime, parking and trash are obviously important issues, especially in the bustling U Street corridor. But he also says that residents have told him they are concerned about the proliferation of nightlife and establishments with liquor licenses. What residents would love to see, Leffler says, is more daytime activity and more retail.
Jeff Spitko, senior vice president of external affairs at the Victory Fund, which seeks to help qualified, out LGBT people get elected to political office, can't comment on candidates not endorsed by the Victory Fund. He does offer, however, that LGBT political visibility is important, as those leaders promote better understanding of the LGBT community and serve as role models. Furthermore, he notes, no piece of legislation recognizing LGBT relationships has ever been passed through a legislative body that has not had at least one LGBT member.
Chris Linn, running for the Logan Circle-based ANC 2F03, says he was encouraged to run by his friend and current ANC 2F02 Commissioner Nick Barron.
Linn, a gay resident who has served as chair of the crime and public safety committee for ANC 2F, says he was looking for a way to be more engaged in his community. But he said Barron, who is not running for re-election, suggested that because of his work on the committee would make a good candidate.
Linn's goals as a commissioner will be to manage the economic development of the Logan Circle neighborhood and combat crime, particularly an increase in theft, as well as some lingering prostitution problems.
Chad Hrdina, running in Truxton Circle and southern Bloomingdale's ANC 5E06 against two opponents, say his partner encouraged him to run in the newly created ANC 5E. Hrdina, who has already dealt with city agencies on behalf of some of his neighbors, is confident he is capable of using those skills more broadly.
Hrdina says that as a child he used to think he'd be politically involved, imagining he'd one day be president. Today, however, the political ambition has subsided somewhat.
"As I've gotten older, the sense of glory of running for public office has gone away, and the sense of service has taken its place," he says. "Now, running for ANC is more about me being able to do something I'm good at, which is taking care of other people or serving a community and addressing concerns."
Hrdina, whose campaign platform includes reducing crime, improving traffic safety, cleaner streets and attracting more specialty shops and eateries to the neighborhood, says he is more concerned about quality-of-life issues than being the District's next LGBT political star.
"I don't put it out there," he says of his sexual orientation. "I don't wear it as a badge, but I'm open about it." He also notes that many of his neighbors are also LGBT.
Besides, Hrdina adds, he doesn't think his sexuality matters as much as whether his neighbors think he's qualified.
"It's pretty organic," Hrdina said of his candidacy. "This right now is just something I want to do for the Truxton Circle/Bloomingdale community, and so I just went after it."