Out of condoms and lube? There's an app for that.
Apple Inc., maker of the iPhone, recently approved a new mobile application – commonly called an "app" – that uses an interactive GPS map to show users places in the D.C. area where they can find free condoms and lube, as well as find links to various sexual health resources, such as those dealing with HIV and other sexually transmitted diseases (STDs).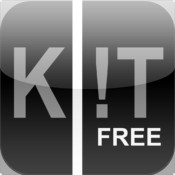 Condom K!t Finder App
The new application, "Condom K!T Finder," a free download from the iPhone App Store, is the brainchild of Dan O'Neill, a member of The DC Center's HIV Working Group, who in recent years has helped execute the group's TOOLK!T/FUK!T campaign. The best-known initiative of the campaign has been the creation of free safer-sex kits, each containing two condoms and two packets of water-based lubricant, available at a number of local venues.
The application marks local maps with three different types of markers. A blue marker indicates a place where people can obtain condoms distributed by the D.C. Department of Health for free. Green is for bars or clubs where they can find official TOOLK!T/FUK!T kits. Red marks places like local clinics or community organizations where users can obtain information about HIV/STD prevention or seek treatment for sexual-health needs.
The application also includes "resources" and "frequently asked questions" tabs, where users can be linked with health-information Web pages or find answers to basic health questions like, "What should I do if the condom breaks or fails?"
O'Neill says he had the idea for a mobile app that would direct people to free condoms and lube, as has been done in other cities, to help people protect themselves from HIV and STDs. But several other cities' "condom apps" were, in his words, "anemic," because they did not contain up-to-date information on where to secure condoms, or would direct users to places like drugstores where they would have to pay for condoms.