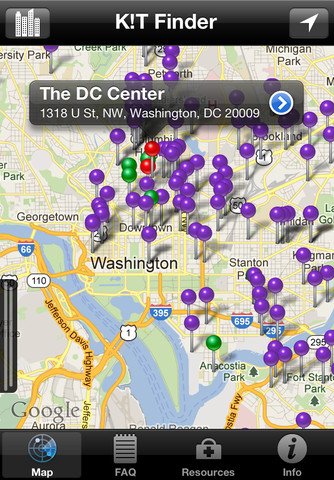 Condom K!T Finder app
In submitting the app for Apple approval, O'Neill says one of his biggest concerns was that Apple would reject it for being too sexually explicit, but those fears did not materialize. Although the app was rejected when O'Neill and his colleagues first submitted their proposal for the new application to Apple, it had nothing to do with being too risqué. Rather, O'Neill says, he received a vaguely worded letter June 28 that suggested the app may have been rejected because it did not have enough entertaining or exciting features, or because it was not designed for a broad enough audience.
So O'Neill and his companions re-tooled the app, which did the trick.
David Mariner, director of The DC Center, D.C.'s LGBT community center, confirmed that volunteers with the HIV Working Group would be writing up detailed descriptions for each site where condoms or TOOLK!T/FUK!T packets are available to enhance the application, available for Windows 7, iPhone, iPad and iPod Touch. An Android version awaits approval.
O'Neill also hopes that other cities will follow D.C.'s lead. For instance, he says, Seattle is implementing its own TOOLK!T/FUK!T campaign. Once that program is running, those cities can program their own locations or resources to be added to the application, allowing it to be used by people in other cities. He encourages people in the District to recommend other features that could enhance the app's effectiveness.
"We want to be able to make a better-quality product," he says. "The more people who are able to give us feedback, the better."