It's probably impossible to leave a production of August: Osage County without feeling a pang or two of familial guilt. But whatever you do, don't let that dissuade you from seeing it. Just think of it as a higher-brow version of a trashy daytime talk show, or even one of those daytime "judge shows" about petty family disputes. Many people watch such shows to feel at least a tad bit better about their own lot in life.
And once you see Tracy Letts's fictitious Weston family, you just might want to call your parents to catch up and make sure they know you love them. Especially if you moved far away from home and aren't always the best at staying in touch.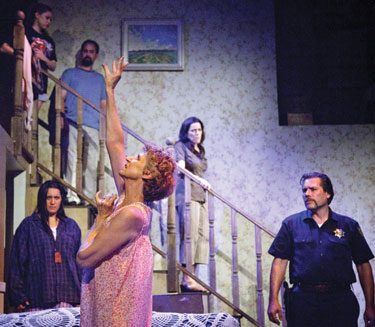 August Osage County
(Photo by C. Stanley)
The crux of the problem in August: Osage County is precisely that: Two of the three "agitated Weston sisters" have moved far away from the family homestead in small-town Oklahoma. They haven't been seen in years and mostly keep in touch with their parents by sending the occasional greeting card. Partly as a result, the parents, Beverly and Violet Weston, are now shells of their former selves, isolated from their children and increasingly from each other. The play is set in motion after the self-admitted alcoholic Beverly (Stan Shulman), a one-time celebrated poet who hasn't published in decades, has gone missing and is then found dead in a nearby river in what appears a suicide. Drowning his lifetime sorrows in books and booze just wasn't cutting it, apparently.
The third daughter, Ivy, has grown so tired of her isolation as the only one still around, she's ready to jump ship and move as far away as possible – New York City – with the first man who woos her. So what if Little Charles Aiken (Michael Innocenti) is a blood relative? She's had a hysterectomy already, she explains – so the two will bear no children. A disturbing justification, to say the least.
In a season that also included a well-received production of Spring Awakening, the Keegan Theatre has proven that it's more than capable of pulling off dramatic ensemble productions. Now with August: Osage County, director Mark A. Rhea, Keegan's artistic director, has assembled another solid cast of 13 actors. All of them, more or less, manage to breathe life into characters that could easily have been played as over-the-top caricatures. That's especially true of family matriarch Violet Weston, played by the exceptionally great Rena Cherry Brown. A self-confessed pill-popping drug addict, Violet is more monster than mother, cutting anyone and everyone down to size with choice barbs attacking them at their weakest spots – the type of larger-than-life diva that gay men in particular adore. But Brown also reveals Violet's humanity, and the pain and insecurities that have caused her to be so easily irritable and nasty, far more so than have all the drugs combined. It's an exhausting role, but one that the two-time Helen Hayes Award winner handles as if it were all just a normal day's work.
Violet's favorite daughter is her oldest, Barbara Fordham, played convincingly by Susan Marie Rhea, the director's wife and also the company's associate artistic director. Barbara is the most outspoken and most strong-willed of the three girls, and the only one capable of effectively dealing with mother.
The play is chock-full of witty wordplay and sassy bon mots, most tossed off by Violet – especially during Act 2's post-funeral dinner, which ends in a breathtaking catfight between Violet and Barbara. Letts also constructs his play accessibly, artfully, revealing key details and new plot twists all throughout in a way that only the all-seeing Violet could see coming.
August: Osage County




To Sept. 2
Keegan Theatre
1742 Church St. NW
$35
703-892-0202
keegantheatre.com
Letts writes in a captivating fashion, but he seemingly tries to throw in every possible problem that could afflict a large family – from favoritism to neglect, from divorce to secret affairs, from incest to slight pedophilia. Chances are, touching on so many hot topics helped push him over with the win for the Pulitzer Prize for this play, but I think he would have won anyway – he certainly would win over even more theatergoers – if he had shucked a few of the subplots and much of the details. Instead, he should have kept the focus on the central dysfunction at play here: As much as a family is a random link of people "accidentally connected by genetics," as Ivy puts it, it's also the fundamental basis of human society.
The lesson: Call your mother and father more often.