"I have no idea what hatefulness is in store," Lady Bunny says. "But all I have to do is slap my thigh and laugh and get paid. I guess I have the last laugh!"
Chances are, there were plenty of laughs, little hate and lots of love at last week's celebrity roast of the Bunny at New York's XL Nightclub. The occasion for the roast was the 50th birthday of Lady Bunny, or, rather, the man behind the uproarious drag queen, Jon Ingle. Joan Rivers videotaped her own greeting for the event, where everyone from gay gossip columnist Michael Musto to fellow drag queen Sherry Vine toasted the New York drag legend.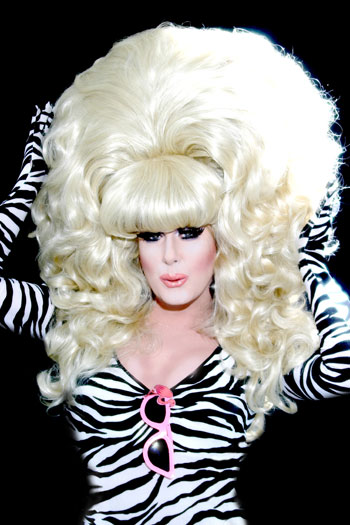 Lady Bunny
(Photo by Aaron Cobbett)
In a phone conversation from her New York home on the day of the roast – and a day after turning 50 – Lady Bunny confirmed that the roast would be filmed. "I don't know what we'll do with the footage," she says. "I guess when I become a serial killer, they can use this for the documentary."
Until then, Lady Bunny will continue serially killing it, so to speak, in performances around the world, including two performances this Saturday, Aug. 25, at Town Danceboutique. In a career that spans more than 30 years and started in her native Chattanooga, Tenn., Lady Bunny has helped push past people's expectations of drag queens. She founded New York's former, celebrated annual drag and music event Wigstock, and later helped pioneer the use of the Internet, and especially YouTube, as a venue for creating raunchy song parodies of current pop hits.
These days, Bunny has gained additional attention as the "Dean of Drag" on RuPaul's Drag U, Logo's spinoff of the popular RuPaul's Drag Race. She's now constantly touring on weekends, with recent stops in San Francisco, Vancouver and Brazil, and upcoming shows in Las Vegas, San Antonio, even Hong Kong. Says Bunny, "I keep it moving."
She also keeps it cracking. In years of conducting interviews, even with other quick-witted, self-deprecating drag queens and professional comedians, this reporter can't remember laughing as much or as hard as while talking to the funny Bunny. Even on occasions when she may stray too far and become too crass, one never loses interest – or even stops laughing – because her intentions are good, and she doesn't take herself too seriously.
Speaking of straying too far, Lady Bunny has been temporarily banned from Facebook. "I guess I'm just too controversial for my own good," she retorts. "You'd think I'd mellow out in my old age." But while that ban is in place, she directs people to check her out on her website, LadyBunny.net, or on Twitter. "I do finally Tweet. I don't quite understand why," she laughs.
She's asked for the significance of the number 77 in her Twitter handle @LadyBunny77. "[It's] my waistline. No, my real age. No, I don't know," she riffs. "Everything else was already taken. There are imposters!"
When it comes right down to it, there's only one Lady Bunny.
METRO WEEKLY: Tell me about your popular weekly drag show in New York.
LADY BUNNY: It's called "Hot Mess," and it's every Wednesday. It's something that I've wanted to do in New York for ages because there's never really been a weekly drag revue like they have in other parts of the country, including D.C. I mean, there are two drag restaurants here. A lot of times people who come into New York will ask me, "Where would you go to see a drag show?" And if they don't want to eat, the only thing I can really tell them is to go to one of the smaller bars, where you basically wait until 1 a.m. to see one queen do two or three songs.
"Hot Mess" is a full-scale cabaret drag revue, with seating and some matching costumes, and different kinds of performances from a really hilarious emcee, Bianca del Rio, to some impersonation, to some really great dancing. It's just a good mix. I grew up watching shows like that down South. XL is the new club in town, and it is actually a great big gay popular dance club. But we do our show around 9 p.m. We're actually the longest-running show there. I think we started in February. So we must be doing something right.
MW: Last spring you appeared with Joey Arias for the Speak Easy cabaret at L'Enfant Café, and, of course, years ago you performed at Velvet Nation. What are you expecting from your return visit to D.C.?
LADY BUNNY: Well, for some reason D.C. has the most gorgeous men. I don't know why that is. I'm looking forward to seeing them. And good food, too. So I'm looking forward to coming back.
MW: Can you give us a hint of what you have in store for us at Town this Saturday?
LADY BUNNY: Well, there's a new Scissor Sisters [parody]. There's lots of new celebrity gossip. There's some Rihanna. A little bit of everything. But my show is pretty fast-paced. I don't do a whole song — I chop everything together in a medley. There's my ode to uncut men, "Like A Cheese Stick," [a cover of Far East Movement's] "Like A G6," a horrible, horrible song, or non-song, as the case may be. Just a bunch of different bits and pieces. I think a reason my act works well in a nightclub is that it's kind of geared toward those with ADD. I don't ask them to think too hard. It's basically just good old-fashioned smut. And I keep it moving. No political diatribes. Nothing that makes you think too hard.