Three co-defendants accused of stabbing a 16-year-old male three times while yelling homophobic slurs at him in front of the Howard Theatre appeared in D.C. Superior Court for an Aug. 16 status hearing and have been scheduled to appear for a follow-up felony status conference on Sept. 27.
Ali M. Jackson; his sister, Alvonica Jackson; and her boyfriend, Desmond Raimon Campbell, all face charges of assault with a dangerous weapon. No bias charges have been filed at this time.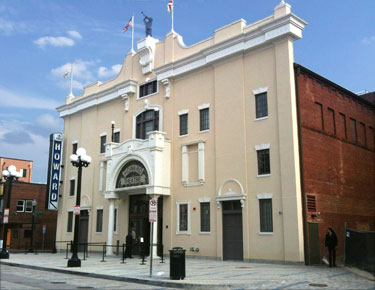 Howard Theatre
(Photo by JD Uy)
Ali Jackson, the alleged stabber, remains held without bond. His attorney, Camilla Hsu, made a request to amend release conditions, but Judge Patricia Broderick rejected the request based on the recommendations made at a July 9 preliminary hearing by Magistrate Judge Frederick Sullivan, who, based on testimony from Metropolitan Police Department detectives, issued varying conditions of release for the three suspects.
Broderick's decision to refuse to release Ali Jackson stems largely from previous run-ins with the law. Jackson pleaded guilty on June 5 to an unrelated charge of simple assault for attacking the owner of a local market in the city's Shaw neighborhood after the owner tried to stop Jackson from stealing wine. In exchange for his plea, Jackson was given a deferred sentencing agreement, which included community service.
But Assistant U.S. Attorney Jin Park noted at the June 9 preliminary hearing for the stabbing that Jackson had previously been arrested for other crimes in the District and Maryland, though those charges were eventually dropped.
Jackson was also previously charged with carrying a dangerous weapon in October 2011, but was found not guilty by a jury. According to charging documents in that case, police arrested Jackson after he rode a bicycle toward a group of transgender women standing in the 900 block of 3rd Street NW while brandishing a knife.
Campbell, whom Sullivan had previously released to a high-intensity supervision program with an order to stay away from the victim and the area where the attack occurred, has been placed in the New Directions Drug Treatment program and must report weekly to the court's Pretrial Services Agency (PSA). The stay-away orders both remain in effect. Alvonica Jackson, who was previously released on bond by Sullivan, must continue to report weekly, in person, to PSA and submit to regular drug testing. She is also bound by the conditions of the stay-away orders.
According to charging documents and police testimony at the preliminary hearing, Ali Jackson had a verbal argument with the victim, whom he had known prior, on the evening of June 26 and threatened to stab him. Jackson allegedly called the victim a "faggot" and the victim responded by calling him a "bitch."
Jackson disappeared down an alley, but later returned with a knife. According to charging documents, Jackson, accompanied by his sister and Campbell, approached the victim from behind in the 600 block of T Street NW and called him homophobic slurs. Witnesses told police Campbell held the victim in a headlock while Alvonica Jackson attempted to hold his arms and Ali Jackson stabbed the victim in his left bicep, his lower back and left leg.
At some point in the struggle, the victim produced a can of pepper spray and sprayed the suspects, who fled the scene. Responding officers detained the Jackson siblings and Campbell.
The victim later identified the three as his attackers and was transported to Howard University Hospital, where he was treated and released. Police also found evidence of blood on Ali Jackson's and Desmond Campbell's pants, and pepper spray residue on Campbell's shirt.
Police responding to the scene say the three suspects were calling the victim a "faggy" while they were being arrested, and Alvonica Jackson and Campbell made similar homophobic comments when they were taken to the police station for questioning.