In a world where silence sometimes equals complicity, the residents of Bloomingdale and Eckington made their voices heard the evening of Aug. 9.
Marching to chants of "Fired up! Won't take no more!" and "From Ward 1 to Ward 8, stop the violence, stop the hate!" more than 60 concerned residents from Ward 5's western neighborhoods converged at Big Bear Cafe and marched along a circular 1-mile route through Eckington, where two gay men were attacked the night of July 22.
Neighbors throughout the Bloomingdale and Eckington neighborhoods who heard the march came out of their homes to watch as the procession, accompanied by officers from the Metropolitan Police Department's Fifth District and Special Liaison Unit, which includes the Gay and Lesbian Liaison Unit (GLLU), walked through their neighborhoods chanting and carrying signs reading "Occupy Homophobia," "Smile if You're Gay (or a Nice Person)" and "I love this city and I love my neighbors."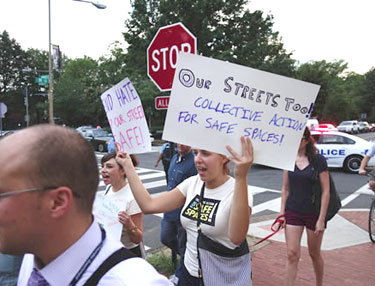 (Photo by Todd Franson)
"We all need to be fired up, and we won't take any more, because when injustice happens to one of us, injustice happens to all of us," E. Gail Anderson Holness, president of the Interfaith Conference of Metropolitan Washington, said as she led the crowd in chants.
Nick T. McCoy, who organized the march with local activist Amy Loudermilk, addressed the crowd at the rally preceding the march. While the bulk of the rally and march focused on the seeming uptick during the past year in crimes with a bias motivation based on sexual orientation or gender identity, McCoy also reminded those assembled to respect the surrounding community, highlighting the sometimes delicate relationships that can exist between newer and older residents, particularly in rapidly gentrifying neighborhoods like Bloomingdale and Eckington.
"It's not just about what happened on the 22nd," McCoy told the crowd. "The injection of hate and disdain for respective communities will not be tolerated, regardless of whether it's in Bloomingdale, Eckington or Shaw. Whether it's Ward 1 or Ward 8, we understand that there is an underlying uncomfortable disposition right now."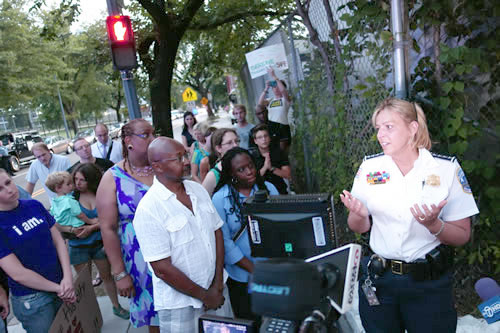 Chief Cathy Lanier (right)
(Photo by Todd Franson)
"There are disparities between respective communities," McCoy continued. "We acknowledge and we respect those disparities. We also acknowledge and respect the people that built up these communities … when they had bulletproof glass in the businesses, when they had to deal with crimes from one block to the next."
The marchers paused at the intersection of T Street and Lincoln Road NE, where the two men, Michael Hall and Michael Roike, were attacked July 22. While there, they yelled loudly, "We shall not be moved!" three times, their cries echoing through the neighborhood.
MPD Chief Cathy Lanier briefly addressed the crowd, saying she was proud to see the community band together and was glad to see that some marchers brought along their young children, as it was a demonstration of civic responsibility.
"I know that the victim of any crime is proud to see the community pull together, and stand up for each other," Lanier said. "That's what community is all about. … It doesn't take much time, we get to meet our neighbors, and it sends a message to people that this is not tolerated in our community anymore."
A.J. Singletary, president of Gays and Lesbians Opposing Violence (GLOV), said that the march and rally served not only as a protest against the most recent attack, but against the rising rate of crimes with a bias motivation in recent years.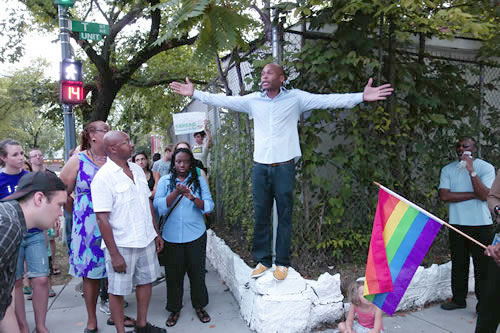 Nick T. McCoy (center)
(Photo by Todd Franson)
Singletary said that according to crime statistics collected from various police departments, the District has the highest rate of anti-gay crimes in the nation, with incidents increasing 67 percent in the past year. At the rally, Singletary handed out a packet of police fliers displaying the pictures of LGBT murder victims, particularly transgender women, whose murders remain unsolved, including Nana Boo Mack, who was stabbed in broad daylight just a block from Big Bear Cafe Aug. 26, 2009.
"We have to make sure from the incident of the crime to, hopefully, eventually, the prosecution and jailing of these criminals is done," Singletary said. "We have to put pressure on city leaders, MPD and the U.S. Attorney's Office to do that."
David Grosso, an independent candidate running for an at-large seat on the D.C. City Council, and who lives in the nearby Brookland neighborhood, said there remains a need for "serious diversity training" for law enforcement officials to help ensure LGBT people can feel safe.
"We have a 10 billion dollar budget for 600,000 people," Grosso said. "The question is, are we going to get full-time councilmembers in there to actually roll up their sleeves and figure out where the money's being spent. And once we figure out where the money's being spent and how it's being spent, I think we'll have plenty of money to do all the things we want to do in this city, including diversity training, sensitivity training."
Councilmember Kenyan McDuffie (D-Ward 5) told the marchers that the LGBT community has an ally in his office, and encouraged them to contact him if they need help with any problems.
"There's only one way to go, and that's when everyone's working toward a common end," McDuffie said. "And everybody in this community, regardless of your race, your class, your religion, your gender, your sexual orientation, should feel safe when they leave their homes. That's what ultimately matters."
As the rally wound to a close, McCoy reminded his fellow marchers to be proactive and advised them turn their defensive reaction to hate crimes into positive actions that can prevent such incidents from occurring.
"Find out who GLOV is," McCoy said. "Join a civic association. Talk to a neighbor about hate crimes. Talk to a neighbor when they say a homophobic slur. Talk to a neighbor when they say a racial slur. Help us move our community and our culture in the direction of change and growth as a human race. Let this defense turn into an offense."