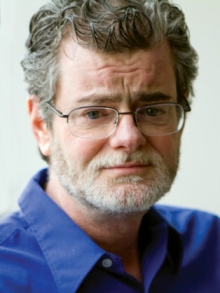 Mark Potok, Senior Fellow at Southern Poverty Law Center
(Photo by via SPLCcenter.org)
Potok accused the FRC and other groups of politicizing the attack.
"Perkins and his allies, seeing an opportunity to score points, are using the attack on their offices to pose a false equivalency between the SPLC's criticisms of the FRC and the FRC's criticisms of LGBT people," Potok added. "The FRC routinely pushes out demonizing claims that gay people are child molesters and worse — claims that are provably false. It should stop the demonization and affirm the dignity of all people."
In the past, representatives of the FRC have argued, among other things, that there should be criminal sanctions for homosexuality and that pedophilia is a "homosexual problem."
Several anti-gay groups have joined Perkins in implicating the SPLC with the shooting, including the National Organization for Marriage.
In a statement released Aug. 15, NOM President Brian Brown pointed the finger at gay-rights groups that have labeled "pro-marriage" organizations "hate groups."
"Today's attack is the clearest sign we've seen that labeling pro-marriage groups as 'hateful' must end," said Brown. "The Southern Poverty Law Center has labeled the Family Research Council a 'hate group' for its pro-marriage views, and less than a day ago the Human Rights Campaign issued a statement calling FRC a 'hate group' – they even specified that FRC hosts events in Washington, DC, where today's attack took place."
Brown said that for "too long national gay rights groups have intentionally marginalized and ostracized pro-marriage groups and individuals by labeling them as 'hateful' and 'bigoted."'
Brown has also attempted to fundraise off the shooting. Although more than 40 LGBT groups signed a statement condemning the shooting, Brown writes in a fundraising letter that directly refers to the FRC shooting, "We are not going to let gay activists get away with attempted murder."
Brown then asks for a contribution of $50 or $100.
Although the FRC and others have sought to blame their political opponents for last week's violence, the overt politicization of shooting has not gone unnoticed.
In a column published by The Washington Post on Aug. 20, HRC President Chad Griffin called attempts to link the SPLC and other LGBT organizations to the shooting are "outrageous and irresponsible."
"Designating the Family Research Council a hate group has nothing to do with disagreements about marriage equality, nondiscrimination laws or any other policy debate," Griffin writes. "The real issue is the Family Research Council's well-documented and continuous pattern of hateful rhetoric."
The HRC and SPLC have shown no signs of backing off their assertions that the FRC supports hate.
Following Perkins's press conference last week, director of communications for the Human Rights Campaign, Michael Cole-Schwartz, reiterated the HRC's condemnation of violence, but warned that the shooting by a lone gunman was rapidly becoming politicized.
"Our hearts go out to the victim, his family and the rest of his co-workers at FRC," Cole-Schwartz wrote in an email to Metro Weekly. "Unfortunately this issue is beginning to be unnecessarily politicized, confusing the disagreements we have over LGBT equality – not our unity against violence. The SPLC has called attention to FRC's past statements and positions which is entirely legitimate."
Says Cole-Schwartz, "Violence is never justified and no right-thinking person should believe that an organization being designated as a 'hate group' is license to do anything but have a civil discussion over political disagreements."