Some people are lucky enough to make a small difference in the world they live in. And some people are stubborn, angry and committed enough to make a huge difference in the world we all live in.
Vito Russo was the second type, a dynamo of gay activism who cut his teeth in the political world of post-Stonewall New York and went on to write the groundbreaking study of gays and lesbians in film, The Celluloid Closet. That book was translated into a stellar documentary that helped a new generation of LGBT people understand their own history in our nation's most popular form of entertainment. Now, with Vito, we have a companion documentary that tells the story of Russo himself.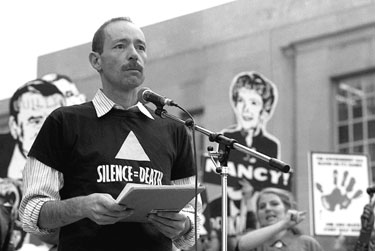 Vito Russo
Vito soars in large part because Russo left behind so much footage of himself, not only from his first-of-its-kind gay TV show, but from numerous interviews and public actions. In one amazing archival sequence from the 1973 New York Pride celebration, you see Russo working the stage before a hostile crowd — the fractured nature of the movement had begun pitting drag queens against assimilationists against queers against ad infinitum. Russo puts all his emotions into trying to keep his community together (ultimately, they were placated by a surprise visit from Bette Midler). It contrasts beautifully with footage of his later AIDS activism with Larry Kramer and ACT UP, taking part in the storming of the FDA, using the platform he'd earned through years of work and dedication to angrily and eloquently fight to save the community that was dying around him.
Like its subject, Vito is vibrant, argumentative, embracing and engaging. After making the festival rounds, Vito is now showing on HBO in a television appointment you shouldn't miss.