Floyd Lee Corkins, II, the man accused of shooting a security guard during an attempted attack at the headquarters of the conservative Family Research Council (FRC), pled not guilty to three counts of federal and local charges on Aug. 24 and agreed to be detained until he goes to trial.
Corkins was indicted Aug. 22 on a federal charge of interstate transportation of a firearm and ammunition, a charge that carries a sentence of up to 10 years in prison. He was also indicted on District of Columbia charges of assault with intent to kill while armed and possession of a firearm during a violent crime, both of which carry a mandatory-minimum sentence of five years. The assault charge could carry up to 30 years in prison if Corkins is found guilty.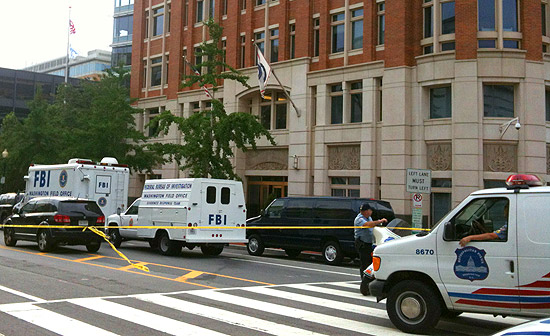 The scene at the Aug. 15 shooting at the FRC headquarters
(Photo by JD Uy)
Appearing in U.S. District Court before Magistrate Judge Alan Kay, Corkins pled not guilty to the charges against him. Corkins's attorney, David Boss, speaking on behalf of his client, waived the formal reading of charges and a scheduled detention hearing, meaning he would not object to being held in prison prior to trial.
Boss asked Kay to ensure that the government turns over all discovery materials, which he said it has begun to do. Discovery materials typically include documents, evidence and the names of witnesses who may testify against a defendant, which the government will try to use to prove Corkins guilty.
Boss and Assistant U.S. Attorney Patrick Martin told Kay, who had ordered Corkins to submit to a mental evaluation, that Corkins had been ruled competent to stand trial. Corkins's case has been assigned to District Judge Richard Roberts, but Roberts's schedule was not immediately available for the lawyers to agree on a specific date.
Kay ordered Corkins held without bond and set a "control date" of Oct. 1, at which time Corkins would return to court to resume trial proceedings if both parties and Roberts are unable to work out a schedule for trial.
Corkins is accused of entering the offices of the Family Research Council at 801 G Street NW on Aug. 15 and shooting security guard Leonard Reno Johnson. According to charging documents, Corkins told the guard, "I don't like your politics," before pulling out the gun and shooting. Despite being injured, Johnson managed to wrestle the gun away from Corkins and subdue him until Corkins could be handed over to officers from the Metropolitan Police Department, and, later, to agents from the FBI.
Corkins had previously volunteered at the DC LGBT Center as a front desk receptionist, but several DC Center staffers and volunteers say they had little interaction with him and that they were shocked to find out he had been arrested for the shooting.