"I THINK I'D PREFER IF YOU DIDN'T know anything special about me," Matt Alber sings at the start of his latest album Constant Crows. "Yes, I think it's best, given my high propensity for making poetry, out of every shooting star."
When you think about it, it sounds like Rufus Wainwright, right? Actually, Alber truly sounds like his fellow gay pop singer/songwriter on the sweet, dramatic "Velvet Goldmine," initially inspired by Todd Haynes's 1998 film.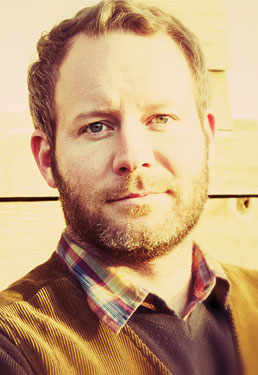 Matt Alber
(Photo by Peter Serko)
You'll think less about Wainwright as Constant Crows goes on though, and the album is testament that Alber, who won two Grammys with the all-male, a cappella chorale Chanticleers over a decade ago, has fully come into his own as a soloist. It's a progression from 2008's Hide Nothing, which found Alber singing more often in falsetto than in the rest of his rich, multi-octave range. To belabor the comparison one last time, Alber proves himself now to be more studied and somber than Rufus Wainwright, with better pitch control and more dexterous thoughts about life and love.
In fact, on Constant Crows Alber displays a dazzling way with words, lyrically making sharp poetry out of the most mundane of topics.
"Why does my lover seldomly seem to be wishing on the same moon as I do?" Alber sings on the pleasant, Carole King-esque soft-pop tune "Seldomly." "What started out as a dream got broken by a cold shoulder." In his album's liner notes, Alber notes "Seldomly" was written after a disappointing second date – clearly he's moving faster than most, in thought if not in deed. "The roll of your eyes, a disdainful remark. That look of embarrassment at all my little joys," he sings in the second verse, as if talking after a disappointing second year. Problem is, he's got his guard up and is braced for disappointment – "It seems I've fallen into the same trap as last time" – and he's only open to flight, not fight. "It would do us no good to talk this over, baby. I could toss a million times and you would never catch my drift."
On "Tightrope," Alber references a chance encounter with a Dutchman while both were visiting New York. "Isn't it something how we happened to meet, the both of us so very far from home?" he sings. He compares the encounter to walking on a tightrope – he says he was inspired by the documentary Man on Wire – and he keeps the lyrics evocatively high above ground, and far from the gutter. "Right there in the tiniest corner of Manhattan, you gave the kiss that told my eyes to open wide," he sings at his most graphic.
The affecting song "Brother Moon" is even more powerful once you appreciate it's not just Alber singing – and whistling – in harmony with himself, or even just any random guest vocalist. It's his actual brother, Bryce Alber, and the two share sweet sentiments, wishing each other happiness and prosperity, conveying fraternal solidarity.
That song's lyrics also poetically capture the tenor of Constant Crows, and of Alber's music in general: quietly powerful, slowly seductive – once you let it work its "sweet elixir," to quote from "Wallingford." Alber proves you don't always have to shout to stun. "Oh the voice I heard, a call through the door; a comfort I could barely hear at all," Alber sings in one verse, relating peaceful, rejuvenating days spent with his brother at a younger age. "Brother, it was in the stillness I began again. I wish the same to you."
The urban California-based Alber wrote and recorded Constant Crows while "hibernating" for a few months on an island in Washington state. The torchy, pastoral music conjures the liberating quality one can find during such a quiet retreat into nature – just as effectively as Peter Serko's gorgeous, Instagram-esque photos do in the liner notes.
Matt Alber
Constant Crows
Self-released
$16.99




Appearing Sunday, Aug. 19, at Atlas Performing Arts Center, 1333 H St. NE
Alber says he wrote the stark, haunting piano ballad "Old Ghosts" after a storm. The storm stands in as a metaphor – along with the ghosts in the title – about the need to tend to the little things often left unheard or unnoticed for too long in a relationship. "If it breaks, we can break with it," Alber reasons – shifting to falsetto to sing "break" the second time, every time.
"I hear the crows, they know what nobody knows," he sings later. But everyone, he suggests, could stand to pay closer attention to life's little details.
Paying closer attention certainly helps you appreciate Alber's work here, too.
DOWNLOAD THESE: "Velvet Goldmine," "Tightrope," "Brother Moon"