A group of gay conservatives officially voted to put their support behind Republican Tommy Thompson in the Wisconsin Senate race against lesbian Democratic Rep. Tammy Baldwin.
The board of directors for GOProud endorsed Thompson in a statement released Wednesday, declaring him uniquely qualified to serve in the U.S. Senate.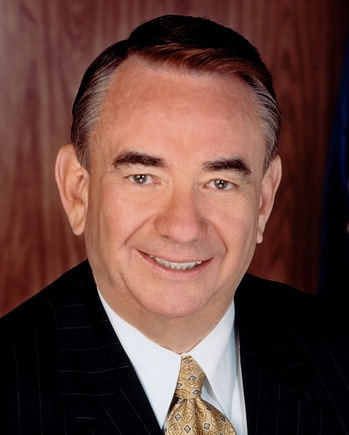 "Tommy Thompson is a common-sense conservative who will focus on creating jobs and growing the economy for all Wisconsin," said Jimmy LaSalvia, Executive Director of GOProud.
Thompson won a four-way primary race last week to become the Republican nominee in the Wisconsin Senate race and arguably Baldwin's biggest threat. Having previously served as governor of the state and as Secretary of Health and Human Services in the Bush administration, Thompson is well liked in the state and is now facing a favorite of the LGBT community.
Indeed, Baldwin would become the first out gay person ever elected to the Senate and the first woman senator from Wisconsin if she defeats Thompson in November. Although that has attracted national attention to her campaign, GOProud looked beyond her candidacy's historical significance to ideological disagreements with Baldwin.
"The voters of Wisconsin need to ask themselves whether or not they want to send a woman to the Senate who has a voting record to the left of Nancy Pelosi," stated Christopher R. Barron, Chief Strategist and GOProud Co-founder. "Tammy Baldwin has been a rubber stamp for the disastrous big government policies of the far left."
Although Baldwin has accused Thompson of being a Washington-insider who will "put those at the very top and the big monied special interests in Washington ahead of Wisconsin's hard working families," Barron said the opposite is true.
"Tammy Baldwin will be a Senator of the special interests, the D.C. insiders, and the most liberal activists," Barron said. "Tommy Thompson will be a Senator for the people of Wisconsin."
GOProud's endorsement focuses almost entirely on Thompson's fiscal views, but they do praise his opposition to a constitutional amendment banning gay marriage and support for Wisconsin's non-discrimination law.
Although Thompson has repeatedly said he is opposed to amending the constitution on principle and not because he supports marriage equality, he is a strong defender of the Defense of Marriage Act, which forbids federal recognition of same-sex nuptials.
In a statement, Thompson thanked GOProud for their support, stating, "I appreciate the support of GOProud and look forward to the growing coalition of broad support joining me on the pathway to victory in November."
Despite his long career, Thompson is perhaps most widely remembered for comments he made during a 2008 Republican presidential primary debate, in which he said employers should have the right to fire gay employees because of their sexuality.
Thompson later apologized for his comments, crediting them to a faulty hearing aid and desperate need to use the bathroom.
[Photo: Tommy Thompson]