The Republican Party reaffirmed their opposition to marriage equality earlier this week with language that was as harsh as it was expected.
A week before the kickoff of the Republican National Convention in Tampa, Fla., the committee responsible for drafting the party's national platform approved language that supports a constitutional amendment banning same-sex marriage and blasts the Obama administration's decision to not defend the Defense of Marriage Act (DOMA).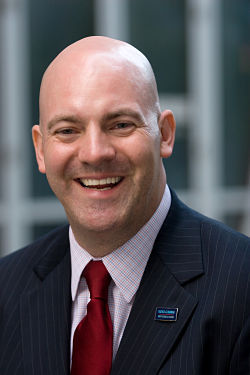 R. Clarke Cooper
(Photo via twitter @RClarkeCooper)
First reported by BuzzFeed, the platform states that marriage is the "foundation of society" and its "success as an institution will determine our success as a nation."
Although the text goes on to declare that the party embraces "the principle that all Americans should be treated with respect and dignity," it blasts an "activist judiciary" that has sided with challenges to the constitutionality of DOMA, which forbids federal recognition of same-sex nuptials.
The platform declares "court-ordered redefinition of marriage" to be "an assault on the foundations of our society, challenging the institution which, for thousands of years in virtually every civilization, has been entrusted with the rearing of children and the transmission of cultural values."
Moreover, the platform reaffirms Republican support for DOMA and declares that an activist judiciary endangers the foundation of the country.
"We oppose the Administration's open defiance of this constitutional principle — in its handling of immigration cases, in federal personnel benefits, in allowing a same-sex marriage at a military base, and in refusing to defend DOMA in the courts — makes a mockery of the President's inaugural oath," the draft reads.
Although party platforms do nothing more than inform the party faithful as to how they should vote, the harsh language came as a disappointment to gay conservatives. Despite attempts on Tuesday by some on the 110-member committee to adopt more inclusive language, they were all soundly defeated.
In an email to Metro Weekly, Log Cabin Republicans Executive Director R. Clarke Cooper described the marriage language as "politically unwise."
"Despite the marriage language being politically unwise and imposing upon the separation of the church and state, I was pleased there was a solid debate on civil marriage, civil unions and the repeal of the Defense of Marriage Act," Cooper wrote, who attended the platform hearings in Tampa.
Log Cabin Republicans have been accused by another group of gay conservatives, GOProud, of providing opponents like Family Research Council President Tony Perkins, who helped write most of the marriage language, the platform fight they wanted all along.
In an interview with Metro Weekly, GOProud co-founder Jimmy LaSalvia said the language came as no surprise, but was harsh in his criticism of Log Cabin Republicans and the FRC for giving the platform debate so much attention.
"I think groups that have chosen to elevate this platform to a public fight have done a disservice to the Romney campaign," said LaSalvia. "It's not only a distraction on the issues that are important to the American people, but it's a distraction from Barack Obama's failed record."
Noting that the platform grants no rights or responsibilities, LaSalvia described the document as "meaningless."