The much talked about "mystery guest" at the Republican National Convention was revealed earlier today.
Although some speculated a hologram of former President Ronald Reagan would grace the stage during the "To Be Announced" time slot listed before Florida Sen. Marco Rubio is scheduled to speak, it will instead be none other than Hollywood legend and marriage equality supporter Clint Eastwood.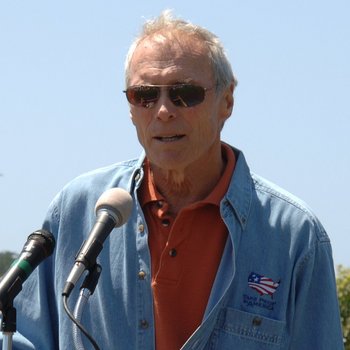 Several news organization have confirmed that Eastwood will speak at the convention in Tampa tonight, where former Massachusetts Gov. Mitt Romney will accept the Republican nomination for president. Rubio is expected to introduce Romney.
Earlier this month Eastwood, who is a lifelong Republican, endorsed Romney for president, stating that the "country needs a boost somewhere."
Although Republicans have long criticized President Barack Obama for his support from Hollywood celebrities, Republicans in Tampa seemed excited about the announcement.
Conservative writer Ann Coulter expressed her excitement about the news, telling Politico, "That would be a blast, just because he's so cool."
"Obama does it all the time, so what's wrong with that?" former Republican presidential candidate Herman Cain told Politico. "The whole Hollywood thing. I think it would be great if they have a big-name Hollywood star to come in an add some excitement. Remember, one of the objectives of the convention is to inspire people and excite people. And I think if it's him, it'll excite people."
Despite Eastwood's party affiliation, he is far from a social conservative. Not only is the Dirty Harry star pro-choice, he also supports marriage equality. In an interview Eastwood gave with Leonardo DiCaprio to GQ magazine in September 2011, Eastwood said he didn't "give a fuck about who wants to get married," describing "bullshit" arguments about the sanctity of marriage as "crap."
Both Romney and his running mate, Paul Ryan, think otherwise and support amending the Constitution to ban marriage equality.
Read an excerpt from GQ's interview with Eastwood and DiCaprio here:
GQ: Yeah, but maybe between the movies you have some political feelings. [to Eastwood] You've described yourself as a social libertarian. What does that mean to you?

Clint Eastwood: I was an Eisenhower Republican when I started out at 21, because he promised to get us out of the Korean War. And over the years, I realized there was a Republican philosophy that I liked. And then they lost it. And libertarians had more of it. Because what I really believe is, Let's spend a little more time leaving everybody alone. These people who are making a big deal out of gay marriage? I don't give a fuck about who wants to get married to anybody else! Why not?! We're making a big deal out of things we shouldn't be making a deal out of.

Leonardo Dicaprio: That's the most infuriating thing—watching people focus on these things. Meanwhile, there's the onset of global warming and—

Clint Eastwood: Exactly!

Leonardo Dicaprio: —and these incredibly scary and menacing things with the future of our economy. Our relationship to the rest of the world. And here we are focusing on this?

Clint Eastwood: They go on and on with all this bullshit about "sanctity"—don't give me that sanctity crap! Just give everybody the chance to have the life they want.
[Photo: Clint Eastwood (Courtesy of Wikimedia Commons).]