A few days ago, I met Barbara Corcoran from the TV show Shark Tank. Well, I didn't actually meet her, but I tried hard. Corcoran delivered a keynote speech at the National Gay and Lesbian Chamber of Commerce's Certify Your Success! Conference in Chicago. Her story is how she turned a $1,000.00 loan into a business she sold for $70 million. By the time she sold, she had become a celebrity in the world of real estate, so being on a reality show about making business deals has been a good way to retire.
During her speech, I formulated my plan. I was going to offer her the cover story of Architectural Digest, which she'd land after I designed a residence for her. A win-win-win situation, if you ask me. Not that it happened, not that I thought it would happen – but what I was after was a connection; which would have amounted, at best, to a brief exchange, a laugh, an impression, and a chance to be remembered when I followed up with my portfolio.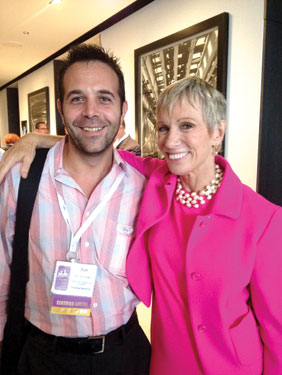 Ron Romanski and Barabara Corcoran
(Photo by courtesy Ron Romanski)
"The exciting part about the conference is everyone has something to add," observes Manuella Hancock, Principal of Hancock Legal PLLC and board member for the Capital Area Gay and Lesbian Chamber of Commerce (CAGLCC). "I learned from other certified businesses, from the methods of other Chambers, and, of course, from the corporate representatives. It's all about bridges and connections, and every participant I met had a level of enthusiasm and engagement that you rarely see at conferences. Maybe it's the frontier aspect or maybe it's the genuine commitment of the people who go, but I really felt we were taking connections to the next level."
For the past 10 years NGLCC has been opening doors for LGBT businesses around the country through its Supplier Diversity Initiative, whereby LGBT owned and operated businesses are part of the group of minority businesses to which these companies commit a portion of their business contracts. Currently, there are over 140 companies who participate in the program and over 400 LGBT Business Enterprises certified by NGLCC, which by the end of this year is expected to reach 500.
If NGLCC provides access, it's up to the individuals and their companies to make it happen. Anthony Shop, Managing Director of Social Driver, a Washington, D.C., company that designs websites, develops mobile apps and creates social media campaigns, speaks to the success of this program. "Social Driver won a contract within a month of last year's conference, solely as the result of a meeting we had there. This year, we made even more connections, and we are going to be busy following up this week in hopes of replicating the success of last year!"
There is no guarantee to walk away with new business from the conference, like the apartment Barbara Corcoran doesn't know I am going to design for her, but attending the conference alone sets the wheels in motion. Creating new business opportunities is not always a clear progression, but a series of seemingly unrelated events, which come together at the right time.
Corcoran delivered her speech as 10 pieces of advice. One of them was "Don't be Afraid of Failure." To succeed you must be willing to risk failure, and not everything you try is going to work the first time or at all. The important thing is to take what you've learned and move on. She also encourages being proactive, for she does not believe "the meek shall inherit the earth." So my plan, which I will keep in my back pocket until I meet the next high-profile, publicity-friendly celebrity – an opportunity that I may have missed, but CAGLCC member and owner of Preactive Marketing, Ron Romanski, was lucky enough to have.
The Capital Area Gay and Lesbian Chamber of Commerce was recently named the NGLCC Chamber of the Year. The chamber means business — for more information visit caglcc.org.
Ernesto Santalla is a DC-based architect and interior designer. He is also CAGLCC President.